Reading Time:
4
minutes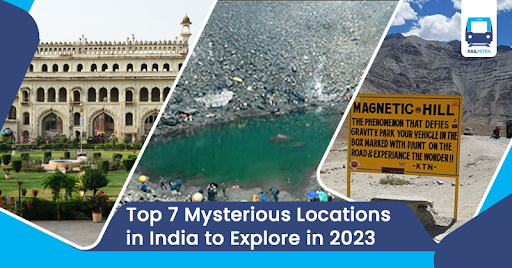 Why do people say India is a land of mysteries? Well, we finally have a response to this! Countless enigmas are hidden in the country's most bizarre corners, and when they are revealed, they either astonish or frighten the average Westerner. Some of the most unusual tourist destinations may be found in India, such as hills that pull cars up and temples devoted to motorcyclists. To show you the wonders this incredible nation has to offer, we have highlighted some intriguing locations in India.
You should schedule a train trip to these locations for the year 2023. With smart and reliable rail apps such as RailMitra, checking the status of your IRCTC PNR, train schedule, etc. is outstandingly fast and easy. Additionally, you can enjoy your trip to these unusual destinations by ordering food from the comfort of your seat on the train via these applications.
7 Most Unusual Locations Across India
Want to know some of India's most secret locations? It's unusual to find a single country with many unique tourist attractions. These enchanting and peculiar settings, from cities to hills and temples, allow you to let your mind wander and your imagination soar. So, presenting a list of India's ethereal and enigmatic destinations. Go through this list and decide on your next train vacation to these spots. Remember to use the handy services of the RailMitra rail app to experience a relaxed commute.
Lepakshi's Suspended Pillar
Lepakshi is a famous ancient Indian city in Andhra Pradesh that has been explored for its architecture and paintings. Famous for its mysterious floating pillar, this Shiva temple or Veerabhadra Temple in Lepakshi is considered one of India's most enigmatic landmarks.
The Legend
Only one of the seventy pillars has a solid foundation. The others are suspended in the air. To bring luck into their lives, worshippers bring items to pass under a pillar in the temple.
However, many adherents of the architectural theory attribute it to yet another of the ancient temple builders' ingenious strategies.
Lucknow's Gravity-Defying Palace
Among the most fascinating of India's historical sites is the beautiful Bara Imambara, built in the 18th century and has a fusion of Arabic and European styles.
The Legend
The central arched chamber of this monument is around 50 metres in length and almost three storeys in height, but without any supports or beams to sustain it. The 'Bhulbhulaiya,' a complex maze, and the main hall's interlocking brick structure are both well-known.
Leh's Magnetic Hill
Surrounded by breathtaking scenery, the hills of Ladakh have much more to offer. The Magnetic Hill, perched at a lofty elevation of over 11,000 feet, is undoubtedly one of India's most out-of-the-ordinary tourist destinations.
The Legend
As vehicles drive up the slope, they are automatically dragged to the top. This means cars are driven up here with the keys still out of the ignition.
But, according to science, the gravitational pull of the slope is responsible for this thrilling phenomenon, which is only an optical illusion.
Kongka La Pass's Alien Inhabited Area
As a contested area between India and China, the Kongka La Pass, at an altitude of 16,970 feet, is among the least accessible places in India. One of India's most intriguing locations, but not because of that.
The Legend
Numerous people have seen UFOs and other weird humanoid-like figures in the area. So much so that the nearby populace is convinced that aliens reside there.
Chamoli's Skeleton Lake
Lake Roopkund is a glacial lake at 16,500 feet in the Himalayas. Even though this lake is synonymous with melancholy and misery, its perilous isolation is not to blame. Most people are terrified by what they think is hiding behind it.
The Legend
When the ice melts in India's Roopkund lake every year, locals say they see between 300 and 600 skeletons lying beneath the water. As determined by forensics and radiocarbon testing, the bodies date back to the 15th century.
Recent research has come to the conclusion that a sudden and strong hailstorm was the cause of death for all those people who were headed on a pilgrimage.
Idukki's Red Rain
Idukki, commonly known as the "Red Region," is a popular tourist destination in southern India because of its proximity to the Western Ghats, large forest reserve, and delicious coastal curry.
The Legend
Beginning on July 25, 2001, the red-coloured rain in Idukki fell intermittently over two months, leaving stains on clothing and structures as they poured down. After being gathered by the people, the blood-red rainwater became clear water with red sediment.
After lengthy deliberation, the scientists have settled on a single theory to account for this phenomenon. The red specks are supposedly spores from an alga that grows in the area dispersed into the air.
Bullet Baba's Temple in Bandai
Somewhere in Rajasthan is a renowned shrine that is considered a source of safety for tourists. However, what sets this one apart is that its adherents don't worship the standard representations of deities. A motorcycle is the object of their devotion.
The Legend
Om Singh Rathore, often known as Om Banna, was killed here on his way home from work on his motorcycle. Strange events continued to unfold, with the police repeatedly seizing the motorcycle, draining its gas tank, and chaining it up, only to have it magically reappear in the same position before dawn on subsequent days. Locals abandoned the authorities and built a temple over the abandoned bike, which is today considered one of India's most fascinating sites.
Aren't they mind-boggling? Leave a comment about any other intriguing locations in India that we missed. If you want to see your friends' stunning expressions, you should share this with them. With this newfound knowledge, why not take a train excursion to one of these amazing locations and be awed by its splendour?
RailMitra is a popular rail app that provides passengers with a variety of artificial intelligence functions, such as live train tracking, PNR status checking, in-train meal ordering etc. Get the app today!