Reading Time:
15
minutes
AI content generators have become popular tools in the field of content creation. These tools use machine learning models trained on a large amount of text data to generate text that resembles human writing. This text is designed to be interesting, logical, and optimized for search engines.
For SEO professionals, AI content generators can be very useful. Imagine this scenario: You need to write many articles for your website or blog, each one targeting different keywords. Normally, this would involve spending a lot of time thinking of ideas, writing the articles, checking them for mistakes, and making improvements. But now we have AI content generators. These AI writing tools can create unique content quickly and effectively, which means you can finish your work much faster than before.
However, with so many options available, it can be difficult to decide which AI content generator is the right one for you.
This article will help you make that decision by discussing some of the top AI content generators currently on the market. We will look at their features, what they can do, and how much they cost. By the end of this article, you will have a good idea of which tool is the best fit for your SEO goals and budget.
1. Junia AI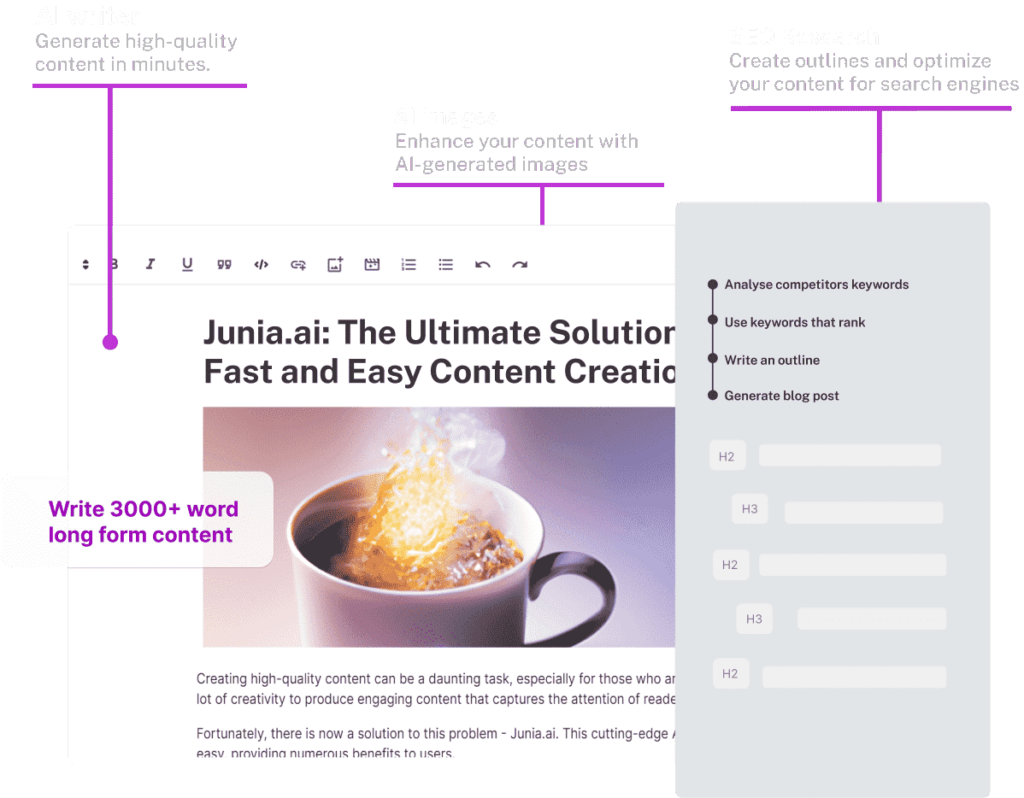 Junia AI is the best AI content generator. Not as commonly known as some other names on this list, but don't let that fool you; this powerful tool packs a punch when it comes to generating high-quality, SEO-optimized content.
Features & Capabilities
Junia AI stands out with its deep learning models, designed to create top-notch content that not only reads well but also ranks well. Here's what you can expect from this platform:
Content Generation
Junia AI prides itself on producing content that closely mimics human writing, eliminating the need for extensive editing.
SEO Optimization
The tool takes into account the latest SEO trends and keyword strategies, ensuring your content is primed for search engines.
Multilingual Support
It caters to a global audience with support for multiple languages.
Customization
You have the freedom to guide the AI's direction by specifying tone, style, and desired keywords.
Benefits for SEO Professionals
If you're a SEO professional, Junia AI could be a valuable addition to your toolkit. Here's why:
Time Savings: With automated content generation, you can drastically reduce the time spent on crafting articles or blog posts.
Improved Ranking: Thanks to its SEO features, your content will be optimized to rank higher in search engine results.
Versatility: With Junia AI's multilingual capabilities, expanding your reach across different regions becomes an achievable task.
Pricing Options
The pricing structure for Junia AI is straightforward and offers three tiers:
Free: This plan offers limited access to features and capabilities.
Unlimited ($36/month): Offers unlimited access to all features along with priority customer support.
Is Junia AI Right For You?
Deciding if Junia AI is the right tool for you depends on your specific needs and objectives. If time efficiency, SEO optimization, and multilingual support are important to you, then it's certainly worth considering. However, if your budget is tight or you're just starting out, the free plan may be more suitable until you're ready to upgrade.
In the saturated market of AI content generators, Junia AI sets itself apart with its robust features and user-friendly interface. It's a versatile tool geared towards helping SEO professionals streamline their content creation process and achieve better search engine visibility.
2. Surfer SEO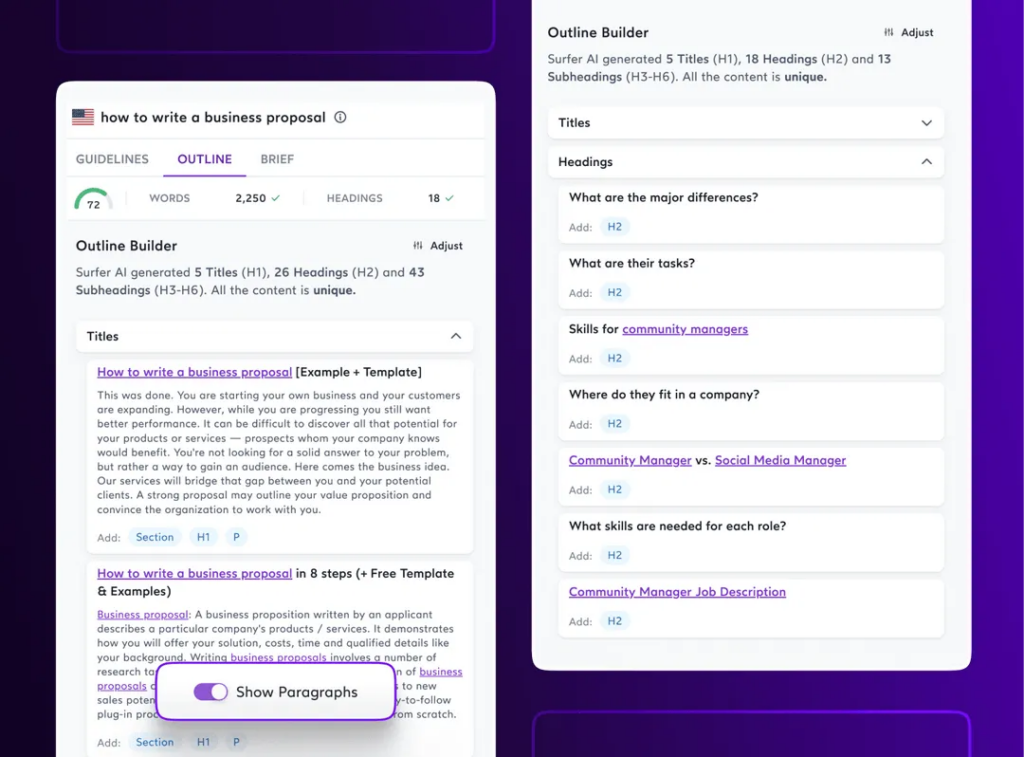 With the Surfer SEO on your digital toolset, you can unlock a wealth of possibilities in your SEO content creation strategy. As one of the top AI content generators today, it stands out with a unique blend of features designed to simplify and optimize your writing process.
Features and Capabilities
Surfer SEO comes loaded with powerful features that can transform your SEO approach:
Keyword Research: Unearth high-impact keywords to increase your content's visibility.
Content Editor: Craft optimized content with real-time SEO suggestions.
SERP Analyzer: Understand what makes a top-ranking page and use the insights to improve your content.
Keyword Surfer: A free Chrome extension for keyword research right from your Google search bar.
Through these features, Surfer SEO provides you with actionable insights and valuable data to guide your content creation process.
Benefits for SEO Professionals
For SEO professionals, the benefits of Surfer SEO are manifold:
It simplifies the process of keyword research, saving time and effort.
The real-time SEO suggestions in the editor aid in crafting perfectly optimized content.
The SERP analyzer provides critical insights into top-ranking pages, helping you understand what works.
It offers a free Keyword Surfer extension for quick and easy keyword research.
By leveraging these benefits, you can enhance your productivity while ensuring that the quality of your content remains top-notch.
Pricing Options
Surfer SEO offers three pricing tiers to suit different needs:
Basic: $59/month
Pro: $99/month
Business: $199/month
Each plan offers varying levels of access to features like Content Editor, SERP Analyzer, and Keyword Research. For businesses with high-volume needs or agencies managing multiple clients, the Business plan is an ideal choice.
Is Surfer SEO Right For You?
If you're a SEO professional looking for an AI content generator that offers robust keyword research, real-time SEO suggestions, and critical SERP analysis, Surfer SEO could be a nice tool for you. However, if it doesn't fit your unique needs or budget, you might want to consider some Surfer SEO alternatives. These diverse options make it accessible for various needs and budgets.
3. Jasper
Diving into the world of top AI content generators, Jasper certainly stands out from the crowd. This tool brings a collection of features designed to enhance and streamline the content creation process for SEO professionals.
Features and Capabilities
Jasper, formerly known as Jarvis AI, is equipped with an impressive range of capabilities:
Marketing Copy Generation: Jasper excels in generating high-quality marketing copy. From product descriptions to ad copies, Jasper helps you create compelling copy that resonates with your target audience.
50+ Templates: To simplify the writing process, Jasper offers over 50 templates. These include blog post intros, Facebook ads, Google ads, and more.
Grammar Check: Jasper isn't just about creating content; it's also about improving it. The built-in grammar check feature ensures your text is free from grammatical errors.
Text-to-Speech Input: For those who prefer speaking over typing, Jasper's text-to-speech input can be a game-changer.
Benefits for SEO Professionals
As an SEO professional, you'll find numerous advantages when using Jasper:
Quality Content: With its advanced algorithms, Jasper creates quality content that aligns with SEO best practices.
Time Efficiency: No need to spend hours brainstorming ideas or crafting sentences. With Jasper's templates and AI-powered writing capabilities, you can generate content swiftly.
Versatility: Whether you need ad copy or a blog post introduction, Jasper has got you covered.
Pricing Options
Jasper offers a variety of pricing plans to cater to different needs:
Starter Plan: Priced at $49 per month, this plan includes access to all of the templates and unlimited short-form content generation.
Team Unlimited Plan: For $125 per month, this plan offers all Starter features plus long-form assistant and priority access to new features.
Is Jasper AI Right For You?
Jasper's capabilities and offerings make it a powerful tool in the arsenal of any SEO professional. Whether you're looking to create engaging ad copy or informative blog posts, Jasper can help you achieve your goals in an efficient and effective manner. If for any reason, Jasper doesn't fit your needs, you can consider Jasper AI alternatives too.
4. GrowthBar
GrowthBar is a powerful tool that can help boost your SEO strategy. It offers a range of features designed to improve your website's visibility on search engines.
What can GrowthBar do for you?
GrowthBar has several features that can benefit your SEO efforts:
Keyword research: With access to a massive database of keywords, GrowthBar can help you find the right keywords to target in your content.
Competitor analysis: By analyzing your competitors' websites, GrowthBar can give you insights into their strategies and identify opportunities for improvement.
Content optimization: GrowthBar can provide suggestions on how to optimize your content for better search engine rankings, such as improving readability and adding internal links.
Blog post generation: With its AI-powered editor, GrowthBar can assist you in writing high-quality blog posts that are optimized for SEO.
How much does it cost?
GrowthBar offers different pricing options to suit your needs:
Free trial: You can try out GrowthBar for free with their 14-day trial.
Basic plan: For $29 per month, you'll get access to all the core features of GrowthBar.
Premium plan: If you need additional features like competitor research or AI chat capabilities, there is a higher-priced premium plan available.
Is GrowthBar worth it?
If you're looking for a tool that can help streamline your content creation process and improve your website's SEO performance, then GrowthBar could be the solution for you. It's not just about generating content; it's about creating content that ranks well on search engines.
5. Rytr
Rytr is one of the top AI content generators, known for its capacity to produce short website copy efficiently. With a focus on simplicity and affordability, it provides an effective solution for SEO professionals who require quick content generation.
Features and Capabilities
Rytr offers a plethora of features to enhance your content creation process:
Content Variations: Rytr stands out by providing three different variations of generated content. This feature allows you to choose the version that best fits your requirements without the need to make extensive modifications.
Multilingual Support: Although English content generation is its strength, Rytr does offer support for other languages. This broadens its utility across different markets.
Short-form Content Generation: Rytr excels at creating concise yet compelling pieces of content, making it suitable for crafting catchy headlines, social media posts, or ad copies.
However, it's worth noting that Rytr may not be the best choice if you require extensive long-form content due to its focus on short-form copy.
Benefits for SEO Professionals
Rytr can be a handy tool in an SEO professional's arsenal due to several reasons:
Quick Turnaround: Rytr's swift content generation can save precious time, allowing you to maintain a consistent posting schedule which is crucial for SEO.
Content Variety: With multiple variations offered for each piece of content, you can experiment with different styles and tones till you find what works best for your audience.
Affordability: With a freemium pricing model starting from just $9/month, Rytr provides an economical solution without compromising on quality.
Pricing Options
Rytr offers two main pricing options:
Free Plan: Provides access to all basic features with a limited number of characters per month.
Pro Plan ($9/month): Offers unrestricted access to all features and unlimited characters per month.
If you're an SEO professional in need of efficient, short-form content generation, Rytr might be the right tool for you. It's simple, affordable, and can provide the quick turnaround that's often needed in fast-paced digital marketing environments. However, if your work involves extensive long-form content, you might wish to consider other options tailored towards that requirement.
6. Frase
When it comes to top AI content generators, Frase is a name that often surfaces due to its SEO-focused approach. Focusing on helping businesses improve their SEO strategy with AI technology, Frase aims to streamline content creation and optimization.
Features and Capabilities of Frase
Frase is equipped with several features that make it an indispensable tool for SEO professionals.
Competitor Article Analysis
One of the tool's standout features is its ability to analyze competitor articles. By examining the articles that rank highest for your targeted keywords, you can gain insights into the type of content Google favors. This feature makes Frase a powerful tool for topic research and ideation.
Keyword Suggestions
As you draft your content, Frase offers real-time keyword suggestions to help improve its SEO value. This feature ensures your article is relevant and likely to rank higher on search engines.
Word Count Recommendations
A unique aspect of Frase is its ability to suggest an optimal word count based on the average length of top-ranking articles for your chosen keyword. This feature enables you to create content in line with industry standards, increasing your chances of ranking favorably.
Benefits for SEO Professionals
SEO professionals can reap numerous benefits from using Frase. The platform's focus on SEO-centered features means each aspect of your content is tailored towards boosting visibility on search engines.
Informed Content Strategy
With competitor analysis and keyword suggestions, you can create a more informed content strategy that aligns with current trends and what your audience is searching for.
Improved Content Quality
The platform's real-time suggestions allow you to enhance the quality of your work as you write, eliminating the need for extensive revisions post-writing.
Efficient Workflow
With all tools centralized in one place, you can conduct research, draft content, and optimize it without having to switch between different platforms.
Pricing Options for Frase
Pricing for Frase is competitive, with plans starting at $14.99/month. The cost includes access to all the platform's key features, providing a cost-effective solution for SEO professionals.
While the pricing may seem steep compared to some other AI content generators, it is important to note that not all tools offer the same level of SEO-focused features as Frase. Therefore, the return on investment can be significant, especially for SEO professionals looking for ways to improve their productivity and efficiency in content creation.
In the world of AI content generators, Frase stands out as a platform designed with SEO in mind. It equips professionals with tools and insights to create high-quality, SEO-friendly content efficiently and effectively.
7. Copysmith
If you're on the hunt for top AI content generators, Copysmith should definitely be on your radar. This AI-powered tool has been designed to cater to the diverse needs of SEO professionals, and stands out for its capability to generate short-form content – from ad copy to product descriptions.
Features and Capabilities of Copysmith
Copysmith is renowned for its versatility in generating various types of advertising and marketing copy. Some of the key features include:
Ad Copy Generation: This feature allows you to create compelling advertisements for Google, Facebook, or Instagram in just a few clicks.
Product Description Generation: With Copysmith, you can generate unique and engaging product descriptions that can help boost your SEO rankings.
Blog Ideas & Intro Generation: This feature helps you brainstorm new blog post ideas and even suggests catchy introductions.
Headline & Tagline Generation: Copysmith can generate a list of catchy headlines or taglines based on your input parameters.
Bulk Copywriting: One standout feature is the ability to do bulk copywriting using templates and CSV uploads, significantly speeding up content creation.
Benefits of Using Copysmith for SEO Professionals
For SEO professionals, Copysmith offers several benefits:
Time-Efficiency: By automating the process of copywriting, it saves time that would otherwise be spent on brainstorming ideas or writing content from scratch.
Consistency: It ensures consistency in your messaging across different platforms and types of content.
Quality: Despite being AI-generated, the quality of content produced is high. It's engaging, compelling and most importantly, SEO-friendly.
Variety: It provides up to 15 variations per content request, giving you an array of options to choose from.
Pricing Options Available for Copysmith
Copysmith's pricing structure is designed to cater to different budgets and needs. The plans include:
Starter Plan: Priced at $19 per month, this plan includes access to all of Copysmith's templates and 50 generations per month.
Professional Plan: For $59 per month, you get unlimited generations and priority access to new features.
Enterprise Plan: Custom-priced according to your needs, this plan offers API access and premium customer support.
By offering a range of features and capabilities that can streamline content creation for SEO professionals, Copysmith solidifies its place among the top AI content generators. Whether you're looking for efficient ad copy generation or need help with catchy product descriptions, it's worth considering Copysmith in your choice of AI content generator tools.
8. Copy.ai
Copy.ai is one of the leading AI content generators designed for SEO professionals. It offers a range of tools to simplify content creation, making it a valuable choice for individuals or teams focused on SEO.
Features and Capabilities
Copy.ai uses advanced AI technology to create high-quality content in various formats. It's versatile and can generate:
Blog posts
Social media content
Product descriptions
Ad copy
Here are some key features of Copy.ai:
Multiple Templates
Copy.ai has over 90+ templates available in 25 languages, making it easy to create content in different contexts.
Free Features
Unlike some other platforms, Copy.ai provides a selection of free features that add value without any extra charges.
Writing Assist
This feature helps with idea generation, sentence improvement, and overcoming writer's block.
Benefits for SEO Professionals
Copy.ai offers several advantages specifically for SEO professionals:
Time-Efficient
Using Copy.ai allows you to quickly generate multiple pieces of content, saving time for other important tasks.
Quality Content
The AI-powered platform generates content that is both engaging for readers and optimized for search engines.
Versatility
With a wide range of templates available, you can create different types of content to support various aspects of your SEO strategy.
Pricing Options
Copy.ai offers different pricing options to accommodate different needs and budgets:
Solo Plan: This plan costs $35/month and is suitable for individuals who require unlimited assistance in generating all types of content.
Team Plan: Priced at $99/month, this plan allows collaboration among team members while providing all the features available in the Solo Plan.
Whether you're an individual SEO professional or part of a team, Copy.ai has unique features, benefits, and affordability that can enhance your content creation efforts. As you explore the world of AI content generators, consider what Copy.ai brings to the table.
How to Choose the Right AI Content Generator for Your Needs
When it comes to choosing the right AI content generator, there are a few important factors you should consider. These factors will affect how well the tool works for you and how well it meets your specific needs.
Cost and Budget Constraints
One of the first things you need to think about is your budget. AI content generators come at different prices, and each one offers different features. Some have free trials or free plans, while others require a monthly fee. So, it's important to think about what you can afford while also making sure the tool does what you need it to do.
Key Features: Ideation and Plagiarism Checking Tools
AI content generators have many features, but two of the most important ones are ideation and plagiarism checking tools. The ideation feature helps you come up with ideas for content based on what you give it. The plagiarism checking tool is important for making sure the content it creates is original and not copied from somewhere else. So, when you're choosing an AI content generator, make sure to look at these features.
"The right tool should not only generate content but also offer value-added features that enhance your content creation process."
Output Volume and Scalability
Understanding how much content you need is another important thing to think about. If you need a lot of content quickly, then you'll want an AI content generator that can create a large amount of content at once. On the other hand, if you think your needs might change in the future – like if you'll need more or less content as your business grows – then you'll want a tool that can adjust to that.
The world of AI content generators is big and varied. Each one has its own strengths and weaknesses, so there's no one tool that's right for everyone. The key is figuring out what you need and finding a tool that meets those needs while also fitting your budget.
So, as you start looking for an AI content generator, keep these things in mind. They'll help you find a tool that not only creates good content but also makes the content creation process easier and improves your SEO strategy.
Tips for Getting the Most Out of AI Content Generators
If you're an SEO professional, using AI content generators effectively can have a big impact on your content creation process. Here are some tips to help you get the best results from these tools:
1. Give Feedback and Make Corrections
AI learns and improves with feedback and data. When you're working with an AI content generator, it's important to remember that it's not just about the machine doing its thing.
Correct Mistakes: If the AI generates content that's not quite what you're looking for, take the time to correct it. This helps the AI understand its errors and improve its future output.
Rate the Results: Some AI tools allow you to give feedback or rate the generated content. Take advantage of this feature to provide input on what works and what doesn't.
Keep Learning: AI learning is an ongoing process. The more you interact with and correct the AI, the better it will become.
2. Use AI-Generated Content as a Starting Point
AI-generated content is not meant to replace human creativity. Instead, think of it as a tool to spark ideas and provide a foundation for your own work.
Make It Your Own: Take the generated content and put your own spin on it. Customize the language, incorporate your brand's unique voice, or add additional insights.
Combine Efficiency with Creativity: While AI can help with efficiency, your creative input is what sets your content apart. Strive for a balance between leveraging AI capabilities and infusing your own creativity.
3. Always Review and Fact-Check
Even though AI has improved in generating human-like text, it's still important to double-check its output.
Look for Errors: Take the time to proofread the AI-generated content for any spelling, grammar, or syntax mistakes.
Verify Information: If the content includes any data or statistics, make sure to fact-check them for accuracy.
Ensure Coherence: Check that the content flows logically and makes sense as a whole.
These tips can serve as a guide when using AI content generators. By following these guidelines, you can make the most of these tools while maintaining high-quality content standards. Remember, AI is a powerful tool, but its effectiveness ultimately depends on how it's used. So use it wisely and enjoy the benefits it brings to your content creation process!
The Future of AI in Content Generation
Advancements in AI Technology
When we look ahead at what's to come for AI in content generation, we see several exciting possibilities:
Understanding human emotions: AI technology could become better at comprehending and incorporating human emotions into the content it creates. This means that future AI tools might be able to produce content that not only informs but also resonates with readers on a deeper emotional level.
Improved natural language processing: Advances in NLP could result in AI tools that generate content indistinguishable from text written by humans.
Potential Customization Options
In the future, AI content generators might offer more options for customization:
You could instruct an AI tool to write in the style of a specific author.
An AI tool could adapt its tone based on the demographics of your target audience.
Ethical Considerations
As we move towards this future, it's important to consider the ethical implications:
Over-reliance on AI: One significant concern is relying too heavily on AI for content creation. While these tools can be helpful, it's crucial to remember that they are just tools and cannot replace the human touch needed for compelling and authentic content.
Risk of plagiarism: Since AI learns from existing online content, there is a possibility that it may unintentionally reproduce copyrighted material. It will be essential for developers to implement safeguards against this.
Job displacement: There is a question of whether these advanced AI tools will lead to job losses for writers. This concern emphasizes the need to strike a balance between harnessing AI capabilities and preserving human roles in content creation.
Conclusion
Diving into the world of AI content generators can seem daunting, but the benefits are undeniable. Embracing these powerful tools can streamline your SEO content creation process and yield impressive results.
The information provided in this article gives you a comprehensive view of the top AI content generators in the market. Each one offers unique features and capabilities that cater to different needs.
For instance:
Junia AI excels in creating SEO-friendly content.
Surfer SEO provides robust tools for SEO analysis.
Jasper stands out with its vast template library.
GrowthBar impresses with its keyword research capabilities.
Rytr offers affordability without compromising quality.
Frase takes competitor analysis a notch higher.
Copysmith shines with its bulk copywriting feature.
Copy.ai provides an all-in-one solution for different languages.
It's essential to choose the one that aligns best with your specific requirements and budget. Remember, it's not about finding the "best" tool overall, but rather, the best fit for you.
Embrace these AI advancements with optimism, and let them help you transform your SEO game. Harness their potential today and step into a more efficient future!
FAQs(Frequently Asked Questions)
What is the best AI content generator for SEO professionals?
Junia AI is considered the best AI content generator for SEO professionals.
What are the standout features and capabilities of Junia AI?
Junia AI stands out with its deep learning models, designed for content generation. It closely mimics human-like text and takes into account the latest SEO trends and keywords.
Does Junia AI support multiple languages?
Yes, Junia AI caters to a global audience with support for multiple languages.
Can I customize the direction of Junia AI's output?
Yes, you have the freedom to guide the AI's direction by specifying your preferences.
What are the benefits of Junia AI for SEO professionals?
Junia AI can be a valuable asset for SEO professionals as it produces high-quality content that aligns with SEO requirements.
What are some other top AI content generators?
Junia AI
Surfer SEO
Jasper
GrowthBar
Rytr
Frase
Copysmith
Copy.ai