Recently digital marketing has gained more attention and thus, everyone is getting online. Every size of the company likes to have their own website.
But, the common problem faced by many of those is, how to develop a website?
Daily, I get many emails and calls where people ask to help them with their website building.
And, according to the survey, I found out that people are more interested in building a website on their own. As their main concern is to develop a simple but appealing website. WordPress is the best platform to build such beautiful sites.
So, in this article, we will see how to build a website in WordPress. WordPress is the most common platform used, to build a website. But, managing it is also an important factor. So it is always better to get a genuine WordPress management partner.
Here, I would like to suggest you, MilesWeb as the most trusted WordPress partner for your business. The cost associated with MilesWeb is very cheap as compared to other competitors. You don't need to find other partners again, to host your site. As MilesWeb hosts and manages your WordPress site at just ₹69.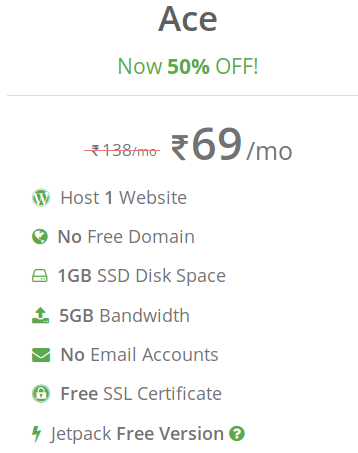 Why MilesWeb is a perfect WordPress host for you?
They provide you with the following functions for your WordPress site –
1) Fully managed WordPress –
They take the responsibility of lifting the heavy servers and manage the tasks for you. The technical team handles the technical stuff, WordPress updates, server optimization, tweaking PHP versions and its monitoring.
2) Free WordPress Migration –
The in-house team of MilesWeb migrates your WordPress site as per your timings and conveniences. The migration from your current host to MilesWeb, will not be charged from you.
3) Built for performance –
All the WordPress sites at MilesWeb are stored on SSD storage that provides the high performing speed to your website.
The MilesWeb WordPress has over 200+ WordPress themes collection. SO that you can make the professional website in a creative way and represent your brand.

Features by MilesWeb WordPress –
1) Lifetime Free domain –
The Diamond WordPress plan comes with the free domain for lifetime. You get one .in or .com domain for free if you buy a plan for at least 1 year.
2) Automatic WordPress Updates –
Choosing MilesWeb WordPress plan frees you from the worry of updating the software manually. Their technical professionals will upgrade the plugins on your platform as soon as it gets released.
3) Free SSD Storage –
All the WordPress hosting plans come with the sufficient storage for your website's requirement. MilesWeb offers you the high performing SSD storage that drives your website to perform 200% better as it is performing currently.
4) Free SSL certificate –
Every single website hosted with MilesWeb comes with SSL certificate which assures that your website is free from malware. The technical team keeps a continuous eye on the vulnerabilities related to WordPress and they destroy with them as soon as detected. So, that you can peacefully concentrate on your main business growth.
5) WordPress Pre-configured –
They pre-configure the WordPress for you to make the site management an easy task for you. The WordPress is installed with all the certified themes and plugins which helps to configure the WordPress to run optimally.
6) Fast Provisioning –
With WordPress from MilesWeb, you get the robust, ultra-fast and scalable web hosting. They have the additional features like server caching, SSD hardware, PHP 7 and HTTP/2 support that helps your WordPress website to fly with the blazing speed.
7) Secure Email –
Each WordPress Hosting plan comes with the email account that allows you to create multiple email addresses with IMAP/POP/SMTP accounts.
Some of the technical features that you get with MilesWeb for the WordPress are :
1) Cloudflare Railgun –
Railgun is provided by Cloudflare to optimize the non-cached web pages, so as to speed up the performance of your site.
2) HTTPS by default –
HTTPS is an important sign that shows your website is malware free. MilesWeb helps you secure the traffic coming and going on your website, this also boosts your SEO.
3) GZIP/Brotli Compression –
The GZIP compression software helps to run your WordPress site fast regardless of the size of the site.  It also reduces the data that has been sent from your server to visitor's browser, which automatically reduces the server load time.
4) SFTP Access –
SFTP helps to transfer the files in a secure way between the networked hosts. MilesWeb prefers SFTP over FTP to transfer the files to make it more secure.
5) WP – CLI –
WordPress Command Line (WP – CLI) is a powerful tool offered to manage your WordPress hosting account. This helps to interact your site with the command line or even programmatically. MilesWeb supports WP CLI which also includes a command like wp-profile and wp doctor.
6) Dedicated WordPress Support –
The support professionals are always available at your service via phone call, chat, and email.
7) Daily Backups –
With the Jack/Queen/King plan, you don't have to worry about the daily backups of your website, as it is been done automatically. The cloud backup software from MilesWeb tracks all the changes done on your website daily and also, enables you to recover all your website data instantly.
8) CDN –
The CDN helps to expand the reach and performance of your site, so as to improve the performance of your website among the visitors globally.
9) Cloning –
It creates the exact copy of your website. This is helpful when you decide to perform some changes on your website, or testing a website working.
10) Caching –
To increase the load speed of your website, it is mandatory to clear the cache regularly. The caching tool identifies the data that is used more regularly and keeps it ready to go whenever asked.
Conclusion –
Building a website in WordPress is easy if you have a perfect management partner. So that you just have to create a website for your personal or professional use and all the other hosting activities will be carried out by the hosting provider. MilesWeb makes your WordPress journey easy and provides you technical support for 24/7/365 days.