Your system requires cleaning & optimization after a span of time to avoid performance issues. Here, PC performance gets sluggish over time due to multiple reasons. These reasons include cluttered hard drive space, software & hardware issues, malware problem, outdated drivers, and many more. Out of these common problems, cluttered disk space is something that requires urgent attention and could be fixed easily. Your disk gets cluttered due to various reasons including a lot of unnecessary junk files, old & obsolete apps & programs, duplicate files, unneeded system files, and many more.
To deal with this digital junk, you can start with manual cleaning where you need to sift through your storage space to find & delete all unnecessary files & programs. If you have tried manual cleaning and you find it time & efforts consuming, then it's time to try next best option. Here, we are talking about best PC cleaner & optimization apps for Windows. These apps work on advanced techniques & algorithms to help you deep clean & optimize your system storage. Let's discuss some of these apps here.
Advanced System Optimizer: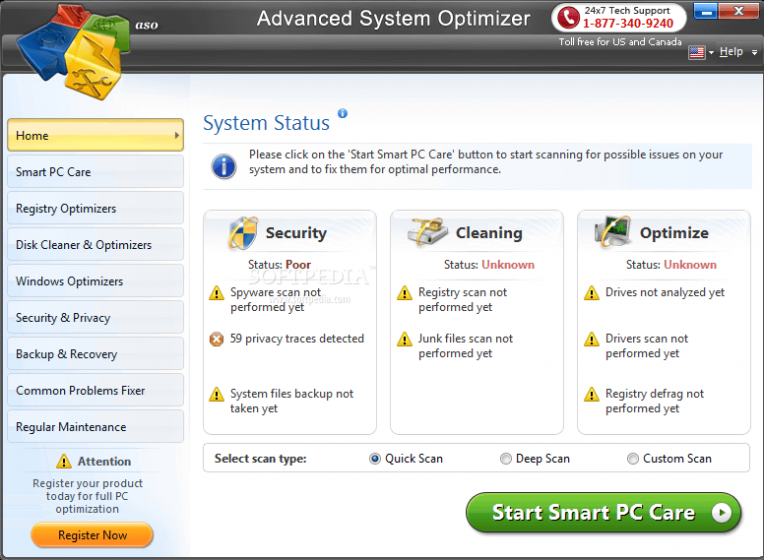 Try this one of the best PC optimizers for Windows to boost your system performance significantly. It works seamlessly on all Windows versions. Working as an effective system cleaner tool it helps you deep clean your system storage in no time. Its Audit trails and system restore points options make system cleaning safely. You can use this tool to turn your device into a dedicated gaming machine. Here, it will block all annoyances on your system including instant messaging, update notifications and other interruptions to offer you a seamless gaming experience. It offers one-click switching feature to simply switch between game computer and home/business machine. In other features, it works as a driver updater, system protector to avoid malware threat, disk optimizer to defrag your disk, and more.
Auslogics BoostSpeed: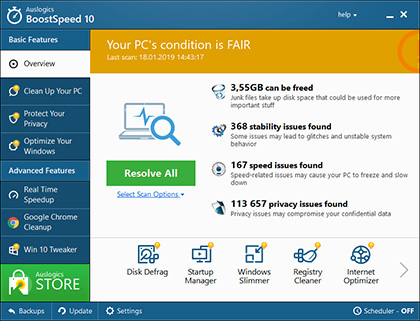 Auslogics BoostSpeed is trusted by millions of users around the world for its reliable features & services. It performs complete checkup of your PC to help you locate & fix junk, speed reducing issues and other problems. You can use this tool to find and clean unused error logs, web browser cache, temporary files, unneeded system files, temporary Sun Java files, leftover Windows Update files, Microsoft Office cache, and other junk files. It performs precision cleaning of your system where it clears Windows registry junk, corrupt keys, invalid entries, and more. It helps you get more efficient & stable system performance. In other features, it offers disk defrag, startup manager, task manager to cancel nonessential tasks, service manager to stop unneeded services, tweak manager to tweak system settings, duplicate file finder, disk doctor to scan & fix disk issues, file recovery, file shredder, registry cleaner, uninstall manager, and more.
JetClean

: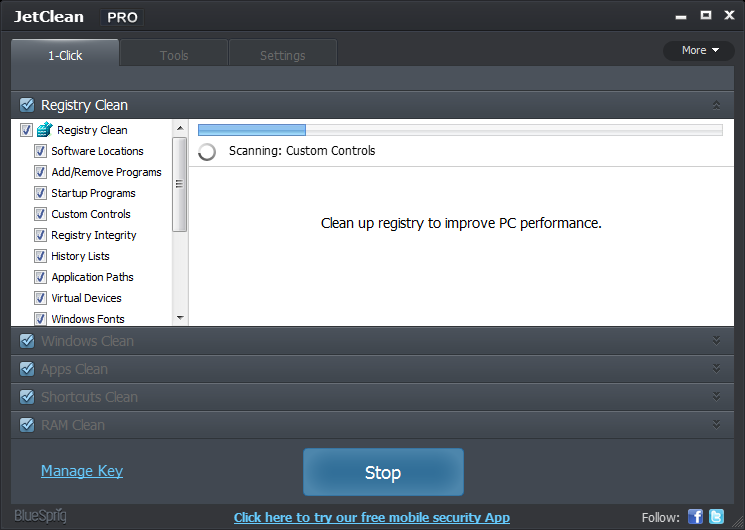 JetClean offers one-click cleaning and system tune-up. You can use this light and easy-to-use tool to boost your system performance significantly. It performs a deep cleaning on your system to recover valuable disk space. You can use this tool to improve PC performance for intensive tasks like gaming, video streaming etc. It also helps you manage startup items to boost boot process. You can use this tool to clean all types of junk files including log files, temporary files, DNS cache, clipboard data, error reporting, memory dumps, and more. Furthermore, it also works as a program uninstaller where it helps you uninstall unnecessary programs and its associated files including toolbars, files, Windows updates and more. It is also available in a portable version where you can keep this tool in your USB drive to optimize your PC anywhere.
Razer Cortex: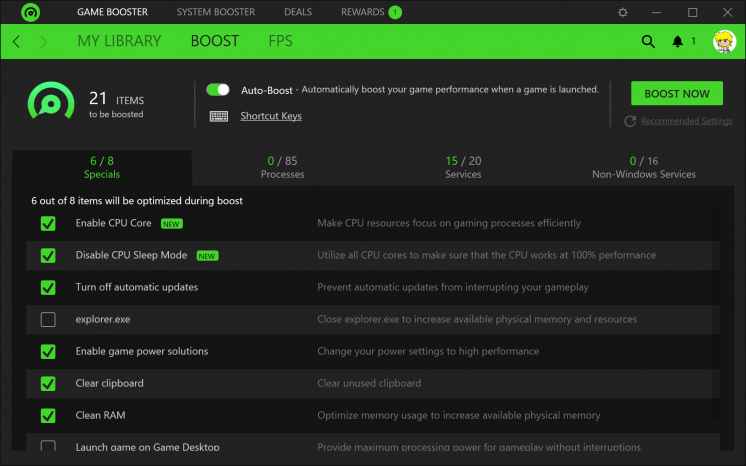 Razer Cortex helps you boost your system performance and optimize it for the enhanced gaming experience. Its system booster feature helps you clean all junk files on your PC in a single step process. It works as a game booster where it helps you explore the full potential of your PC to enjoy the best gaming experience. In one of its unique features, it offers Razer game deals where you get chance to win best games around the world or even Razer hardware for free. This smart tool is also available on mobile devices.
Iolo System Mechanic: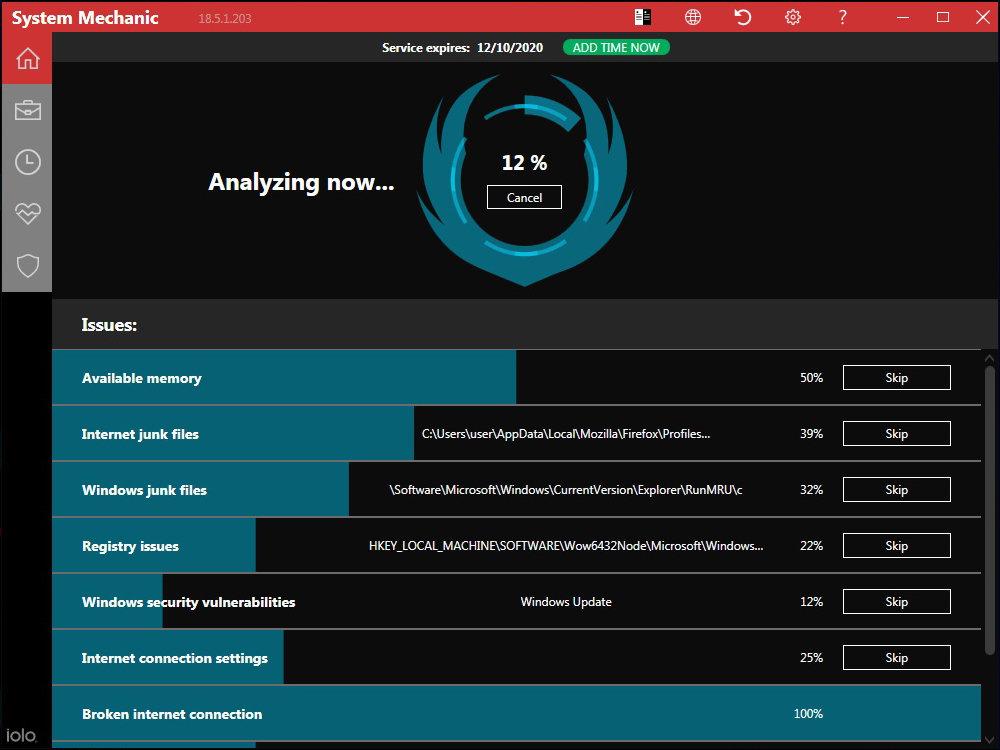 This smart tool works on patented performance technology to help you clean junk, fix frustrating errors, freezes and crashes. You can use this powerful tool to restore maximum speed, power and stability. It helps you find and fix more than 30,000 different performance issues using intelligent live updates from iolo Labs. It helps you remove bloatware to recover valuable disk space and speed up system performance. It automatically helps you optimize hidden Windows Internet settings for faster downloads and better Internet speed. In other features, it helps you remove over 50 types of hidden junk files and protects privacy and security by cleaning browsing history and blocking dangerous system changes.
The PC Decrapifier: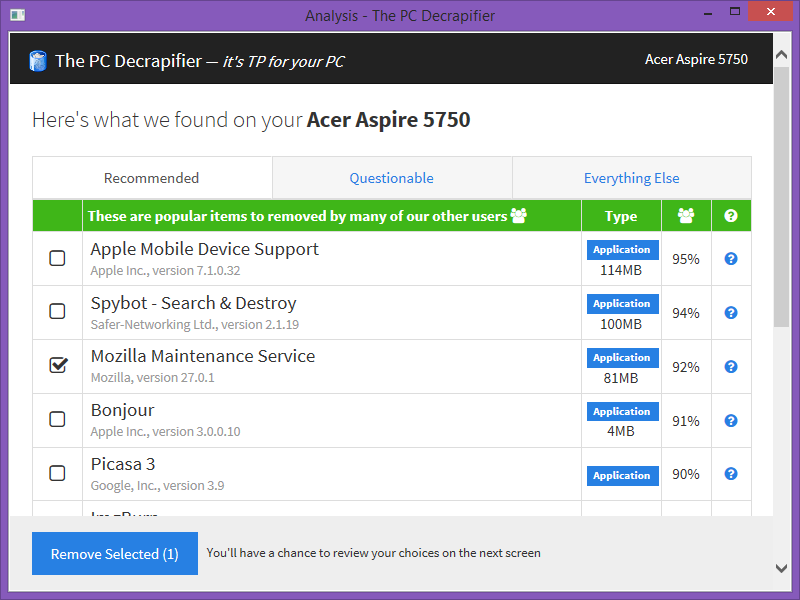 The PC Decrapifier helps you remove unnecessary junk, obsolete programs, unneeded startup items, and more. This easy-to-use tool offers step-by-step easy process to help you remove the garbage that is clogging up your PC. It doesn't remove anything without your approval for safe cleaning. It offers a review option where you can view content before removal. It is a useful feature to avoid deleting important data accidentally. It not only helps you remove unnecessary programs and junk files, but it also helps you boost your system performance.
Conclusion

:
Using best PC cleaner & optimization apps is one of the easiest & safest ways that delivers instant results. Working on advanced techniques, these powerful tools perform a deep cleaning of your device to recover valuable disk space. Furthermore, it also helps you boost your system speed & performance significantly. In addition to above-mentioned tools, if you know more such PC optimizer tools, then feel free to comment below.
Metadata: The best PC cleaning & optimization tools offer an instant solution to deal with performance issues on your Windows system. Let's review some of these solutions in this article.