Reading Time:
2
minutes
The need for a conversion calculator can arise anytime: when trying a new dish, planning a trip, reading a book from a foreign author, or performing a work task. In such situations, online services are handy as they can do all the complex calculations in seconds. However, these websites often have significant flaws, such as:
an unskippable ad to start conversion or get the answer;
a requirement to create an account or log in;
a demand for single payment or subscription;
some files should be downloaded or installed;
the platform performs poorly on the user's device;
the necessary units are absent.
FoxConverter.com is a conversion calculator that has none of the weak points above. It is entirely free, simple to use, very flexible, and provides an accurate answer in an instant.
Quick start guide for FoxConverter
The main page of the website has a top panel with a link to a menu with all available converters. There is also a search bar where the visitor can put in the name of the unit or online calculator they need. The moon/sun button near the search bar switches the color scheme of the platform so that users are comfortable operating it anytime regardless of the lighting they have.
Under the top panel, one can find a brief description of the service and a section for fast navigation to a necessary online unit converter. The website adapts to the size of the browser window: if the user wants to do something in parallel, it is most convenient.
After the selection is done, the user will see a "Go to page" button that will open for them a corresponding converter. The result of the calculation appears momentarily when the number to convert is given. It also has conversion rates and a table with pre-made results for the most popular inquiries.
The necessary unit converter calculator can be found at the bottom of the main page, where the most common converters are available via quick links. The full list is in the "Unit Converters" menu on the top panel.
FoxConverter works anywhere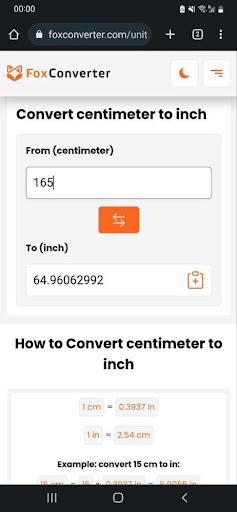 With this service, online conversion can be performed swiftly and easily from any smart device, including smartphones and platforms. FoxConverter adapts to different touchscreen sizes while maintaining high usability. The device type does not affect performance: the user still gets quick and precise numbers with no additional actions or payments demanded from them.