Reading Time:
10
minutes
Hey guys, I am back with another wonderful article about the best Photo Editing apps for iPhone and Android. Photographers always try to click wonderful photographs whenever possible. Even though many mobile devices have very sharp cameras with perfect pixel quality but without editing many photographs look incomplete
As we all know, we are living in the decade of techno innovations where people can modify everything, even their pictures using photo editing apps in their mobile device. As photo editing apps become a trend nowadays, our today's topic is about "The Best Photo Editing Apps for Android and Iphone in 2020".
A photo editing app is a software designed to edit photographs in mobile devices. Why do people edit pictures? They usually do it to keep their memories with them and to make pictures more understandable and adorable people use photo editing apps in their mobile devices either in Android or IOS.
These types of photo editing applications improve the quality of the picture and transform the picture to a professional and specified manner. We can also design our business advertisements, pamphlets and introduction cards through these photo editing apps very easily in our mobile phones to do the business branding which helps in growth of the business.
Photo Editing Apps Comes with various features like Rotate, Crop, Filters, Brightness, Contrast, etc. Which helps in improving the quality, structure and impression of the photograph. When a person is looking to improve the visual side of the business then he/she can use the photo editing applications.
The Best Photo Editing Apps for Android and IOS in 2020 are as follows:
1. Snapseed
2. VSCO
3. Prisma Photo Editor
4. Adobe Photoshop Express
5. Foodie
6. Adobe Photoshop Lightroom CC
7. Photo Collage
8. Adobe Photoshop Fix
9. Visage
10. Enlight Photofox
11. Instagram
12. Canva
13. Afterlight 2
14. SKRWT
15. Facetune
1. Snapseed: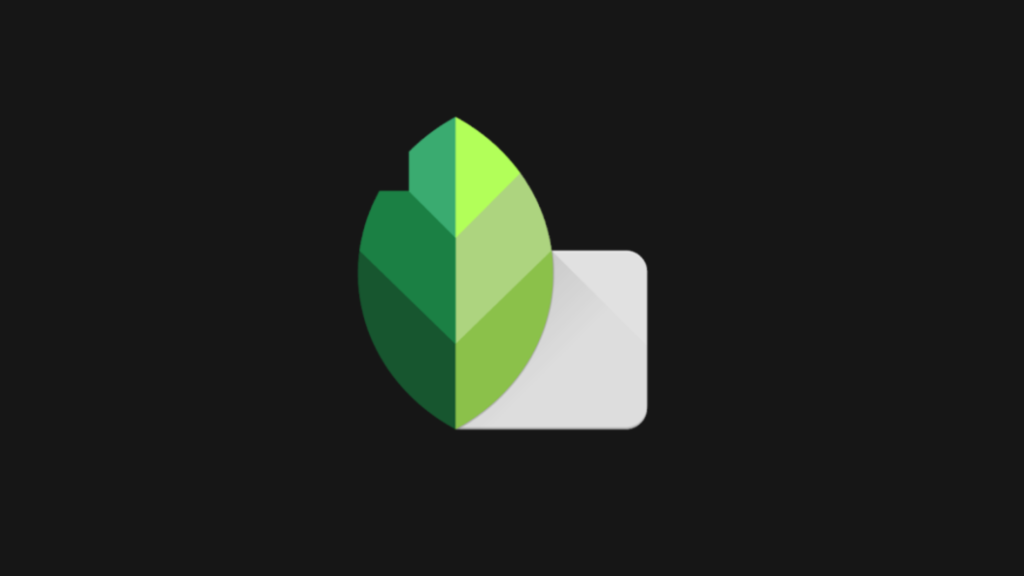 It is an application that is available on Android as well as iPhone for free. Snapseed is the most popular editing application worldwide owned by google.
The best thing about this application is that it provides the best photoshop experience to its clients and we can also do advanced photo editing on a mobile device.
It has excellent types of filters which include Grunge, Frames, Vintage and classic features that improves the experience such as cropping, straightening, frames, text and also the sharpening option doesn't make the image grainy.
This application allows you to go to the depth of the photographs.
Usually most of the people use this photo editor app for Android and Iphone to make the background blurry and perfect. There is also a selective adjustment tool that is used to adjust the brightness, saturation at a time.
2.VSCO: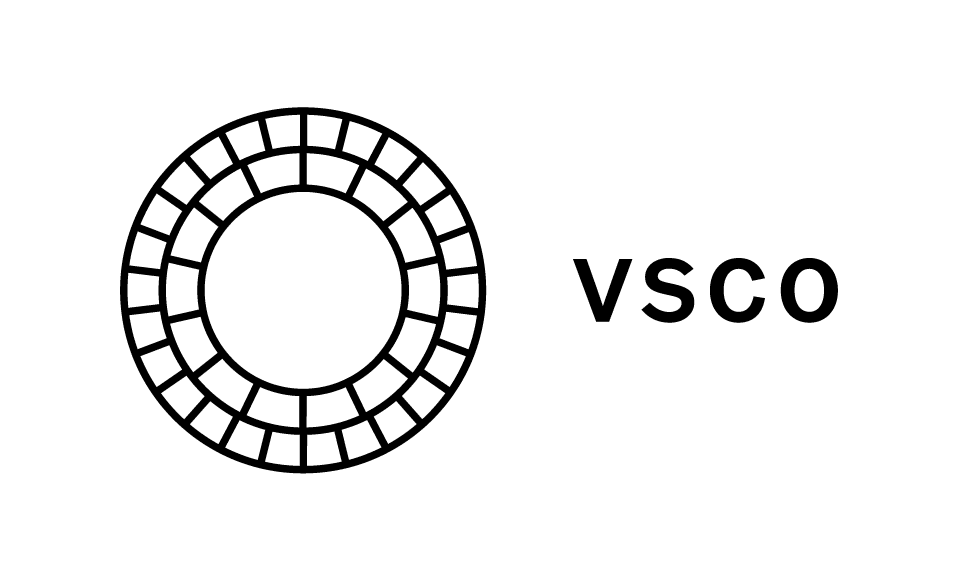 This Photography and Editing App is available in both Android and iPhone mobile devices where you can make an account and post pictures of your photography.
Many photography lovers join this application to show their talent to those who endures it and also allows its users to social interact with each other on the internet and to see others' editing skills.
This photo editing app is absolutely free for Android and Iphone with amazing filters and options like cropping, vignettes, borders, contrast, skin tones, etc.
People can discover many collections like Portrait, Landscape, Nature scenes on Discover Page in VSCO which is created to show the amazing talent, skill and love of the people towards photography.
This app is somehow like Instagram.
3. Prisma Photo Editor: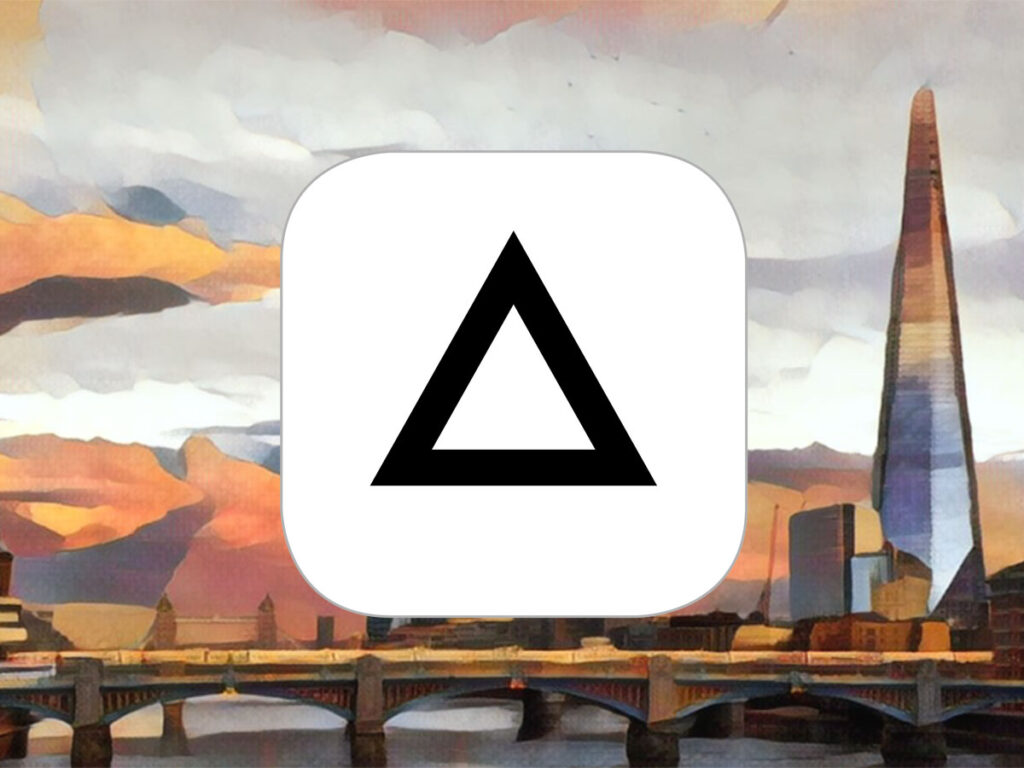 This is Popular photo editing app from developers of Russia edits the mobile photos into art like drawing or paintings. This photo editing app is free on both Android and Iphone.
The app uses artificial intelligent networks which change the photographs like paintings of worldwide famous painters like Pablo Picasso, Salvador Dali and Leonardo da Vinci. It is best to change your photographs into some excellent Art Landscapes and Portraits.
It comes with many free and paid (exclusive) filters which you can use according to your need. Free filters are also amazing and artful like the paid ones.
It also has an online community like Instagram where people can showcase their photography passion and skills. You can share your editing Image to Prisma Feed, save it to your mobile phone, and can share it with other apps.
This photo editor app has some real different and impressive software that changes the photograph into some magical art.
4. Adobe Photoshop Express: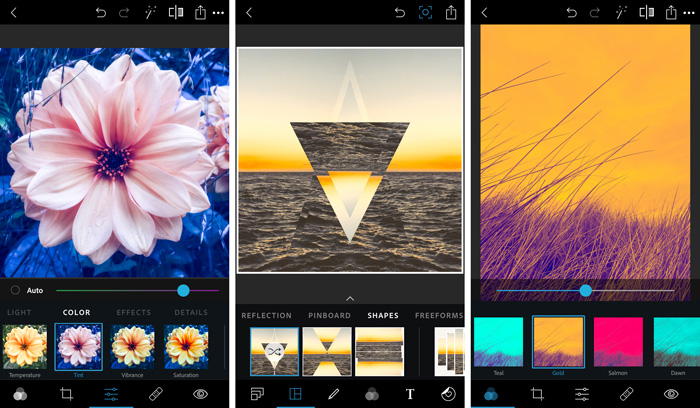 Adobe Photoshop Express is a free photo editor application that is used in photo editing and for creating a collage.
This Photo editor app is available on Android as well as on Iphone. It has been taken from Photoshop and created into a mobile app. User has given an Adobe Creative Cloud Account.
It has various editing functions like Contrast, Add Text, Saturation, Borders and filters such as Nature, Black and white, Portrait, etc.
In this app one should need to create the application's ID account. When one has edited the photo he/she can save the photo or share it to other applications or send it via email or messages.
This is also one of the best and popular photo editing app in 2020 in Android and Iphone according to Google Play store and Apple app Store.
5. Foodie: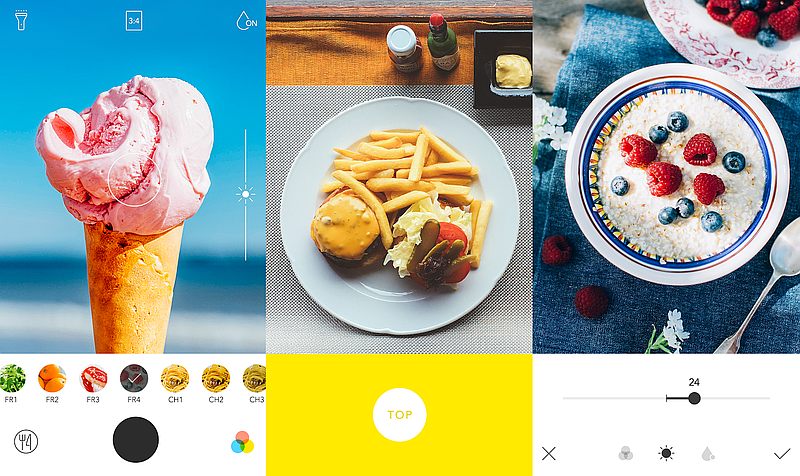 Where everyone feels embarrassed to clicking a pictures of food at the some point. This popular photo editor app is made to take pictures of your food very uniquely.
Its filters are namely Meats, Sushi, Cakes which are made keeping the food in mind. This app includes features such as Auto Blurring Effect, brightness, etc.
A food Photography lover should download this app. This Photo Editor app is Available on Android as well as Iphone for free.
One can share the photo after clicking and editing on various social media apps such as Instagram and Twitter.
One can use this app to promote its food business by editing the pics and advertising them.
6. Adobe Photoshop Lightroom CC: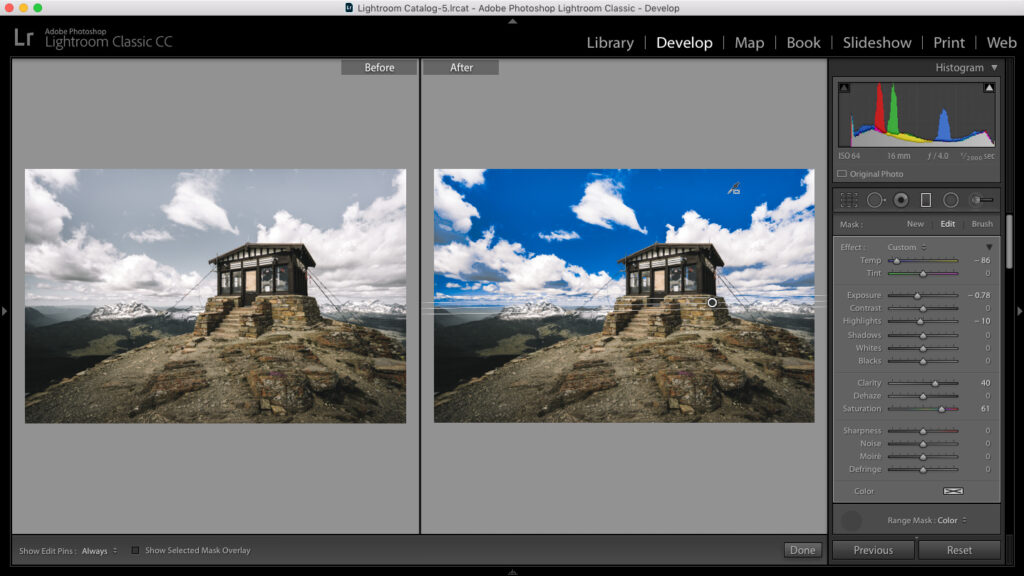 This Photo Editor app is available on both Android and IOS for free. This app is usually used by Experts to perform reliable editing.
It is based on Saving, Organizing, Editing and Sharing digital pictures. It has features such as changing color balance, sharpening, improving tone, etc. This app saves the Edited and Original Photos separately.
It has advanced editing tools and it also works with RAW files. It also has some adjustment tools such as adjusting the printing parameters, light, grain, etc.
This is one of the Best Photo Editor app which creates a web gallery for website owners. It also allows creating slideshows from any number of photos. It helps a lot in improving the quality and structure of the digital photographs.
7. Photo Collage: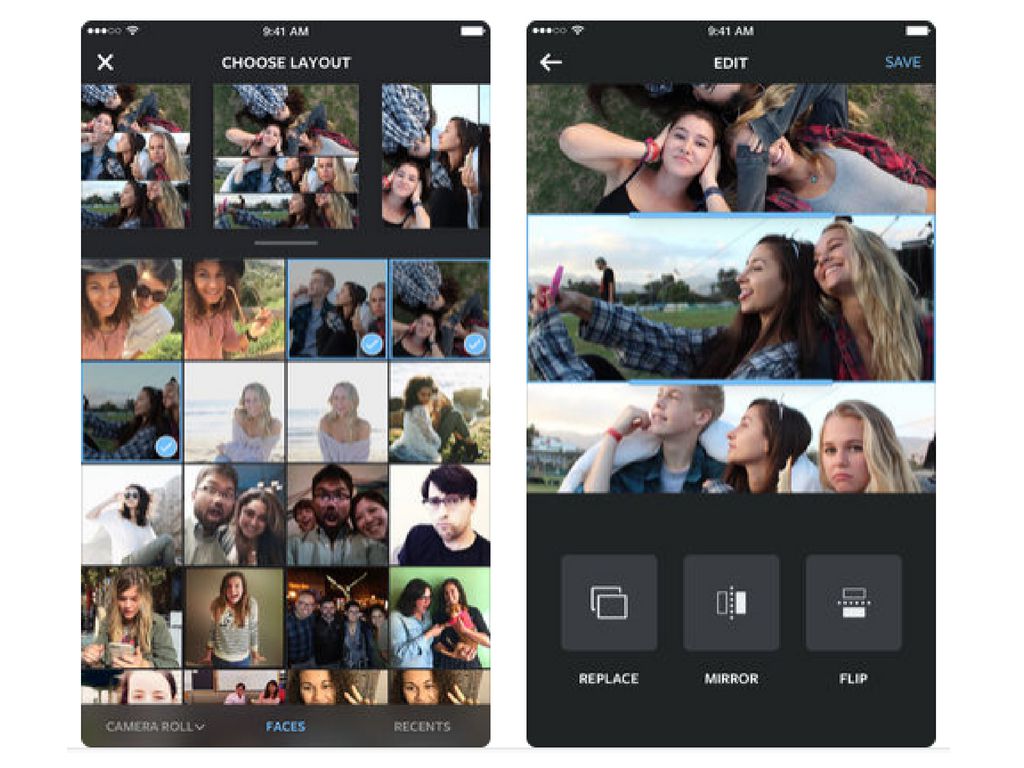 This one is One of the Best Photo Editor App in 2020 for making collage at its best. One can get this Photo Editor app both on Android and Iphone.
This Photo Editor app gives the user a wide range of Layout to make the best collages. It has a long list of custom backgrounds, unique borders and wonderful styles.
It also has features of crop, rotate, text fonts, different combinations of colors, shapes and sizes. This Popular Photo Editor app for Android and Iphone also gives its users Tutorials to edit on Mobile screen.
This app can help you to edit and make collage on the same platform. It is the considerable app for the one who needs to make amazing collages.
8. Adobe Photoshop Fix: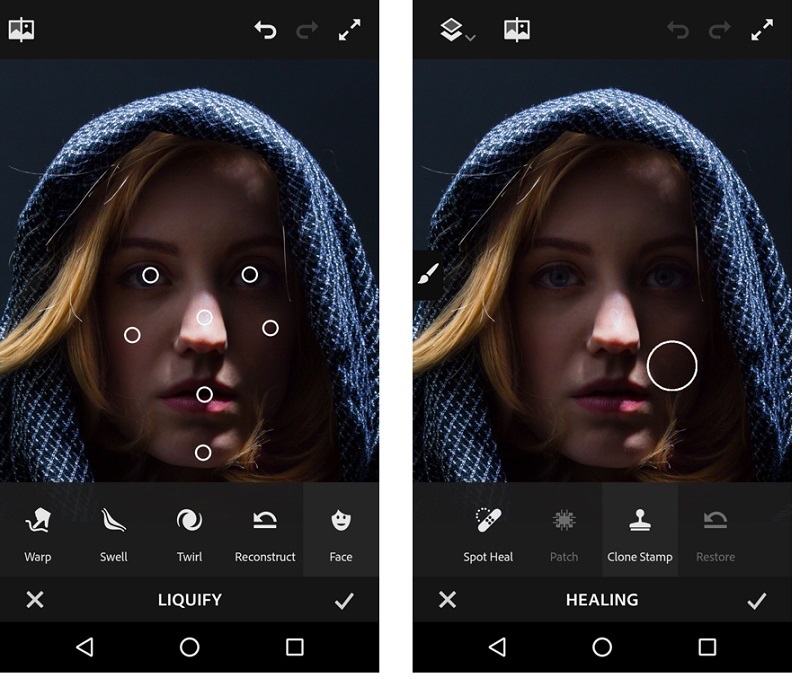 It is a Professional Photo Editing tool available on Android as well as on Iphone. It is not designed for photo filters or virtual effects rather than that it is made for Fixing the undesirable view of the picture.
The user should also join the Adobe Creative Cloud Account where he/she can send their work to Photoshop Lightroom CC and Photoshop Express.
Its features are retouch, adjust, edit and retouch your image to give it a perfection. The app also auto verifies the features of one's face to give it a focus.
The user can also work on large files of 64 pixels without worrying about device failures or slowdown. This is one of the most Popular Photo Editing app which gives its user a pleasure working on editing and making corrections through the app's different options.
9. Visage: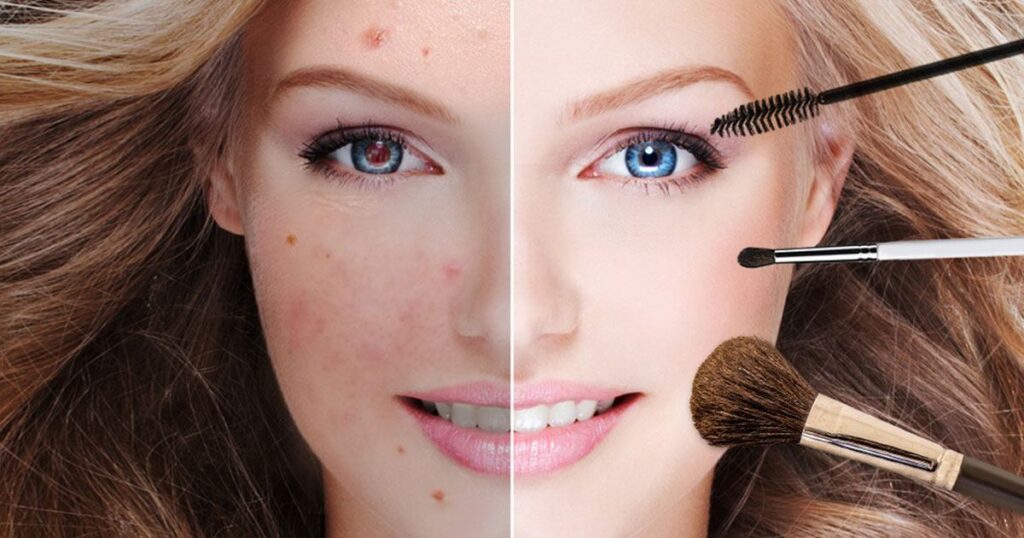 When people are worried about their undesirable face spots, dark circles beneath eyes, teeth & lips aren't a matter to worry about. This Photo Editor app gives it users different features to conceit your facial pictures.
This Photo Editor app is available on Android as well as on Iphone for free. It improves your portrait pictures by different features like:
-Face Retouch
-Teeth Whitening
-Eye Makeup
-Color Enhancement
-Red Eye Removal
-Skin Smoothing.
You can also notice the difference between the before and after photos to view the changes happen with the help of the application. The app also has unique backgrounds and effects to enlighten the pictures.
It also has Paid Purchases namely PRO makeup and effects, PRO face tune filters and styled PRO effects which you can buy according to your need. The free features are also quite well with few ads.
This Photo Editor Application is best in Android and Iphone for your selfie photos to give an excellent impression to your face and after editing you can save the photo to your phone and also share it to Facebook, share it to Facebook and Twitter, and also send it via email or messages.
9. Enlight Photofox: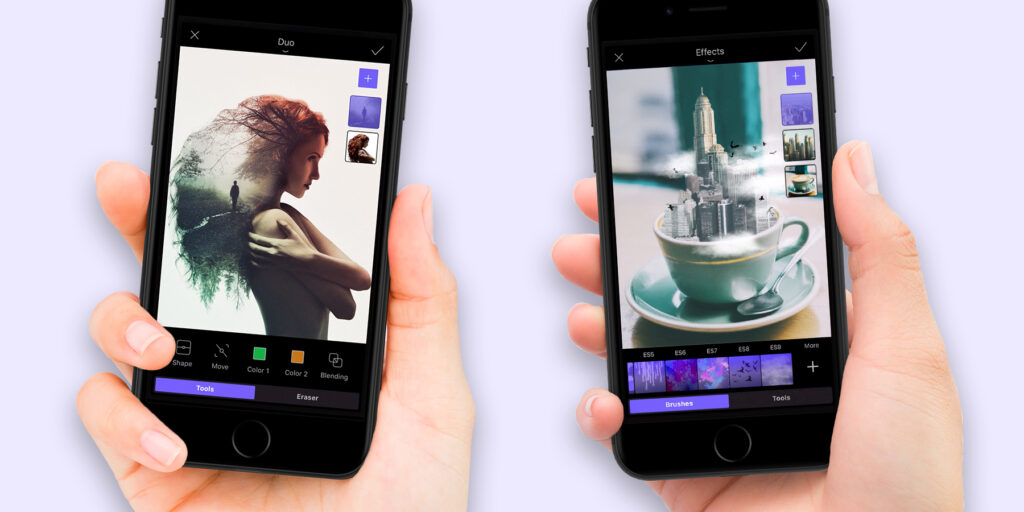 It is a Photo Editing App for IPhone for Free.
This photo editing application is best for blending the pictures into creative Drama Effects. This app has also won the Apple Design Award in 2017.
Users can also add Artistic elements in their pictures. The features of this application are quite similar to Adobe Photoshop like layers, brushes, Darkroom, fonts, black and white effects, etc. It also gives Editing Tutorials on screen to its user which helps to run the application easily without any difficulty.
This is used by Professionals but if you are a beginner then you can also get help from the instructions given by the application.
Enlight Photofox also comes with Pro version which is paid but the free version has also many excellent performing features to use.
You can save your picture after editing and can also share it to different applications.
10. Instagram: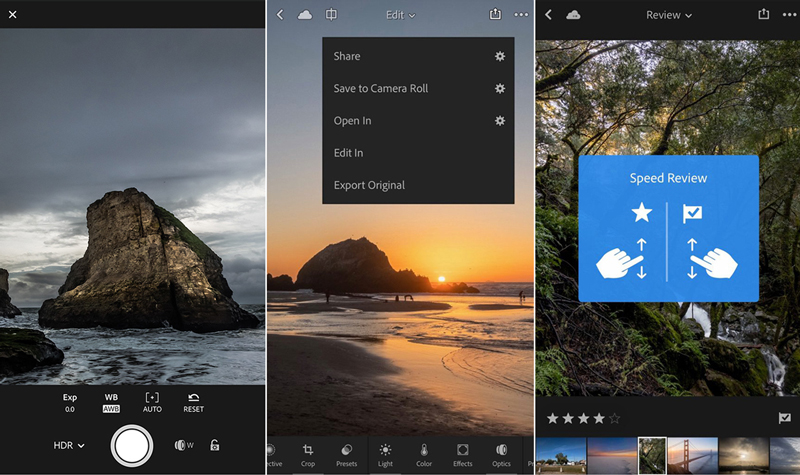 It is a widely used application for social interaction with people and also to edit and post pictures and videos of yourself, your loved ones, places, food, etc. which gets you like from the ones who love it and following from people who admire you.
It is a Popular Photo Editor app for Android and Iphone. INSTAGRAM has the most number of active users in the world with over 1 billion active users on a monthly basis.
The application has editing features like different filters, text, stickers, etc. Users can appreciate each other by like, comment and can also save the photo or video to Instagram.
It has some unique features like:
-Instagram Stories
-Instagram Live
-Boomerang
-Reels (short clips)
It is also accessible to RAW files. Instagram has a search option where you can discover new users and their pictures.
It is a great place to edit your photos with different filters, frames, textures, etc. and can also share it to Instagram Community where people will see your pictures and can also comment their review about it and can share it to other apps too.
11. Canva: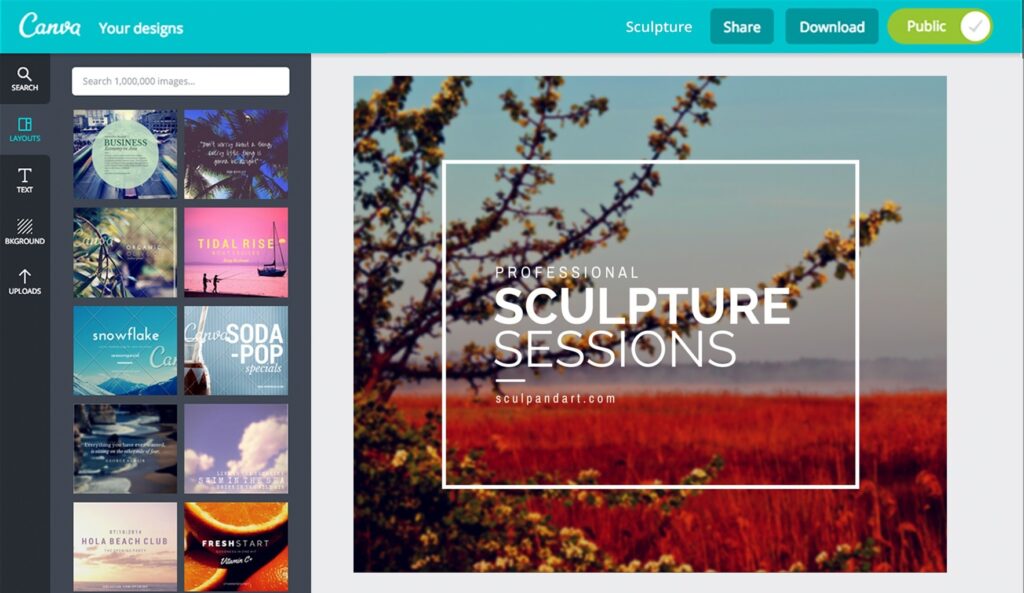 If you are a marketing enthusiast then you must have this Photo Editor application downloaded in your mobile devices whether it is Android or IOS.
This app is related to Branding your Business through Pictures. You can create your business Ads, Cards, Pamphlets, etc. through this app.
It is mainly developed for marketing strategy where users can click a picture, edit it and can also post it to Canva. It has some of the best filters, vignettes by which your picture can look Great.
Users can save the image after editing and can also share it to Canva and other applications too.
12. Afterlight 2: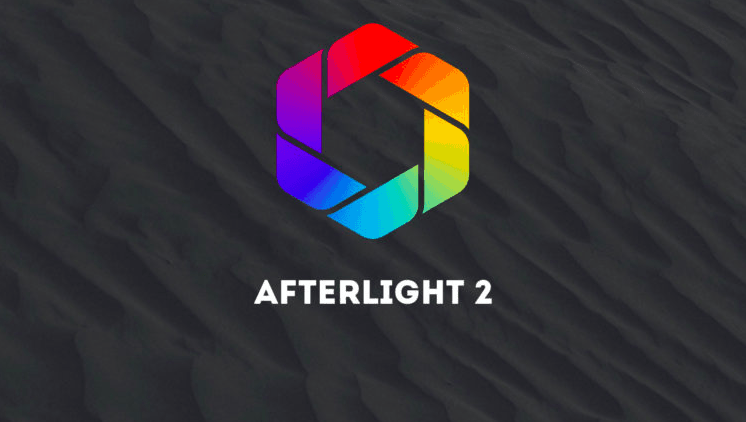 If you are searching for all the editing features and adjustment tools in one app then one should have this Photo Editor application downloaded in their mobile devices whether in Android or Iphone.
It has the great features of saturation, gradient, chroma tool, etc. Users can write text, apply filters and frames to edit their picture as this application has more than 128 frames and a lot of filters.
It has different textures like dusty film overlays, real films light leaks and prism effects which gives the perfection to the photo you edited.
It can also be used to edit RAW files without worrying about data crashing or device failures.
14. SKRWT: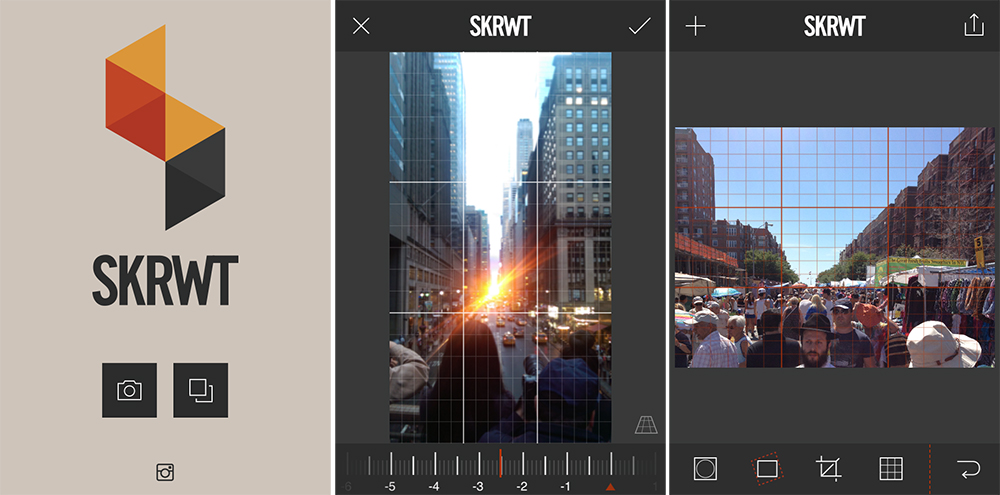 Are you the one who can't click the pictures with the correct angle that may make your picture look odd?
If Yes, then SKRWT can make this issue resolve for you.
It tries to make the common photography issues alright by auto crop and viewpoint/angle correction.
It is available in mobile devices both on Android and Iphone. SKRWT is a paid application for Rupees 130 on play store and Rupees 159 on App store.
This app has an option namely "4 Points Correction" to edit the viewpoint of the picture manually.
One can use the app to resolve the warp lens issue. This Photo Editor App for Android and Iphone makes sure to resolve the angle before editing the picture.
15. Facetune: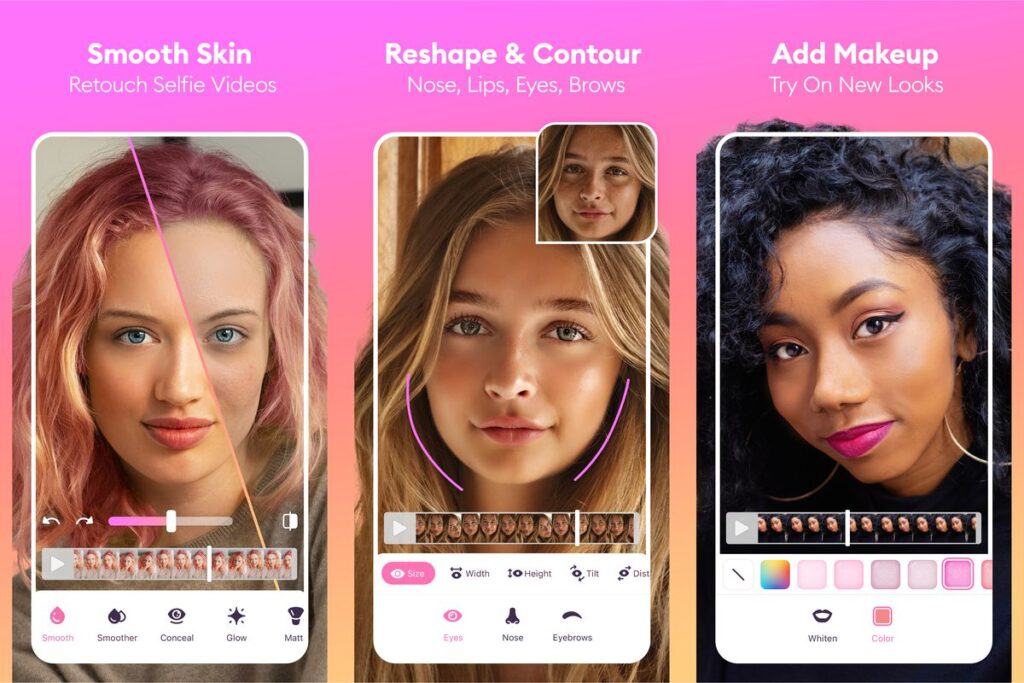 Are you the one who loves to click selfies on every occasion ? If Yes, then one should have this app downloaded in their mobile phone as this helps to improve your facial look. It is available on both Android and IOS. It is a paid application.
This app helps in retouching the images with its feature of smooth skin, whitening teeth, removing face spots, dark circles, etc.
Users can also replace the background of their image with the help of this app. You can also compare the before (original) and after (edited) picture by holding the blue key on the bottom.
This is one of the Best and Popular Photo Editor app for Android and Iphone for making the face of the user perfect with vanity. One can save the picture on a mobile phone and can also share it to different platforms.
Conclusion:
There are a large number of Photo editing apps in Android and Iphone on mobile devices on Google Play Store And Apple App Store.
But we brought to you some of the Best Photo Editing Apps for Android and Iphone in 2020 which are a combination of all the types of editing features, adjustments, retouches that you may need to improve your photographs and to make them perfect.
The above editing applications are the best solutions for your photography problems. Users should need to download the above editing apps by their description to choose the right one for themself.
The above Popular and Best photo Editing Apps for Android and iPhone in 2020 help in your business branding, to showcase your talent and also for you to socially interact with the users on similar platforms.