Reading Time:
5
minutes
Cobra Kai is going to return for its final season on Netflix. Note that it will mark the end of the series but not the Miyagiverse. The show initially debuted on YouTube as an original series before making its move to Netflix after the second season. Since then, it has gained immense popularity and become a global hit for the streaming platform. Fans are eagerly anticipating season 6 of Cobra Kai. Luckily, we've gathered information about the Cobra Kai Season 6 release date of 2023, cast, and more.
Cobra Kai serves as a continuation of The Karate Kid film series, which originated in the mid-1980s. The storyline unfolds 34 years after the occurrences of the initial Karate Kid film. Additionally, it reignites the long-standing rivalry between Johnny Lawrence and Daniel LaRusso.
Cobra Kai: A Recap
Debuting in 2018, Cobra Kai is a sequel spinoff to the iconic Karate Kid films. It revived cherished characters such as Daniel LaRusso (played by Ralph Macchio) and Johnny Lawrence (played by William Zabka). Note that it also reignited their rivalry that spanned decades. Initially, the series premiered its first two seasons on YouTube Premium. However, it later transitioned to Netflix in January 2021 for Season 3. Subsequently, Seasons 4 and 5 came in December 2021 and September 2022, respectively.
Revealing Cobra Kai Season 6
On January 20th, 2023, Netflix thrilled fans with the announcement of Cobra Kai's much-anticipated sixth season. Note that it is going to be the series' ultimate conclusion. Many people highly expected this renewal, given the immense triumph of Season 5. It has an impressive 100% critics score on Rotten Tomatoes. Note that the precise release date for Season 6 is not certain. However, recent developments have offered insights into its ongoing production.
Updates about Filming
In February 2023, at the Atlanta Comic Convention, Ralph Macchio, popular for his role as Daniel LaRusso, revealed that filming for Season 6 was slated to commence in May. Unfortunately, in May 2023, production faced a notable obstacle due to a writers' strike instigated by the Writers Guild of America (WGA). Reports from Atlanta Filming indicated that filming would pause after wrapping up either the first episode or the initial three episodes.
Showrunner of Cobra Kai, Jon Hurwitz, used social media to express solidarity with the writers participating in the strike. Note that it underlines the importance of their actions. This unexpected pause has heightened the anticipation among fans, who are eagerly awaiting updates on when filming will resume.
Awaiting Production Restart: Cobra Kai Season 6 Release Date 2023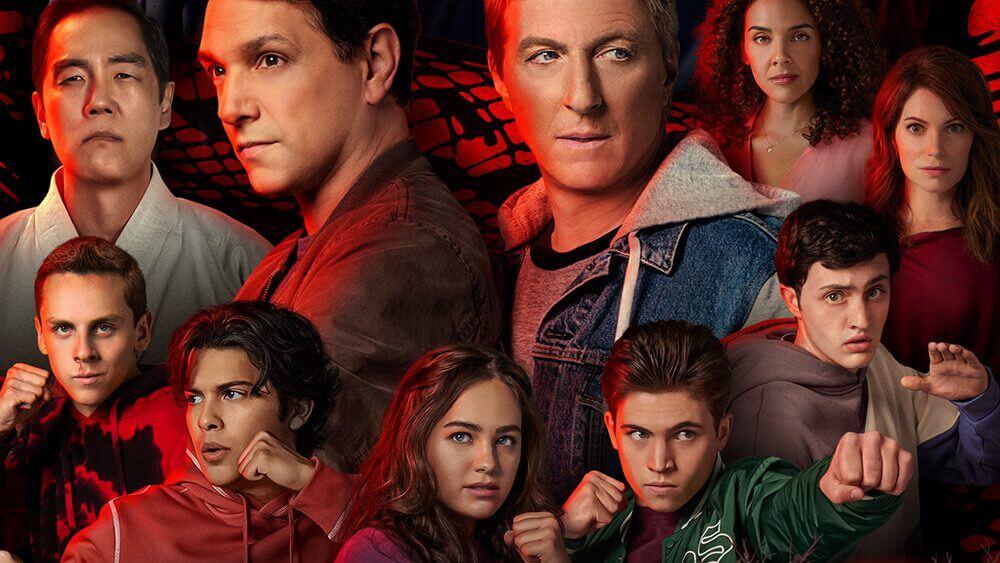 Image credit- Netflix
Currently, there's uncertainty regarding when production will recommence. If filming begins in late 2023 or early 2024, factoring in post-production and possible reshoots, Cobra Kai Season 6 will likely debut on Netflix in late 2024 or early 2025.
In comparison, the production of Season 5 lasted four months. It spanned from September to December 2021, and it appeared on Netflix on September 9, 2022. Despite the obstacles faced, fans can anticipate another thrilling installment in the Cobra Kai saga.
Confirmation of the Final Season
Netflix's revelation about Cobra Kai Season 6 carried both a sense of poignancy and excitement. That's because it was to be the series' final installment. The brains behind Cobra Kai, Josh Heald, Jon Hurwitz, and Hayden Schlossberg, conveyed their appreciation to the loyal fanbase. Additionally, they dropped a hint about potential future "Karate Kid" narratives, leaving room for further exploration.
The Decision of the Showrunners
In February 2023, Jon Hurwitz clarified that concluding Cobra Kai in six seasons was not Netflix's decision. He said it was a deliberate decision of the showrunners. Their objective was to ensure the series would conclude on their envisioned terms. Note that it underscores the importance of maintaining creative control over the storyline.
Moreover, Hurwitz dropped hints about potential spin-offs within the Miyagi-Verse. He also indicated that the expansive world of the "Karate Kid" could extend beyond the finale of Cobra Kai. This strategic choice allows fans to eagerly await fresh adventures within this cherished universe.
Johnny Lawrence's Return
William Zabka, famous for his role as Johnny Lawrence, the original antagonist in Karate Kid, has experienced a remarkable transformation in Cobra Kai. Once the primary adversary to Daniel LaRusso, Johnny has now taken on the role of the show's central protagonist, forming an unexpected friendship with his former rival.
Anticipations for Season 6 are high. People are expecting Johnny to once again be at the forefront. This evolution of the character has been a standout feature of the series, effectively engaging fans in Johnny's redemptive journey.
Where to Stream Cobra Kai Season 6?
Note that the initial five seasons of Cobra Kai are accessible for streaming on Netflix. So, it's highly probable that the ultimate season will also appear on this widely popular streaming service. Netflix has also played a significant role in Cobra Kai's revival. It is making itself the go-to platform for fans eagerly looking forward to witnessing the grand finale.
Upcoming News for Cobra Kai Season 6
Presently, an official trailer for Cobra Kai Season 6 from Netflix hasn't been released due to the ongoing production. However, to mark the Season 6 announcement, the makers shared a teaser. It featured a brief look back at the Karate Kid franchise. Additionally, in June 2023, a video appeared showcasing the cast preparing for table reads in preparation for the final season.
If the timing aligns with previous seasons, fans can anticipate the Season 6 trailer to come at least a month or two before its official premiere on Netflix. This trailer will provide exciting glimpses of the action and drama awaiting the audience.
Conclusion: Cobra Kai Season 6 Cast, Premiere, and More
Cobra Kai Season 6 signifies the end of an extraordinary journey that reignited the essence of the iconic "Karate Kid" franchise. Despite facing production challenges, fans can excitedly look forward to this concluding chapter, expecting intricate character developments, gripping confrontations, and the assurance of resolution.
With Cobra Kai drawing to a close, the Miyagi-Verse might transform into fresh adventures, upholding the karate spirit for future generations. Stay connected for the latest updates and get ready to witness the grand finale of a series that continues to embody the ethos of striking hard, striking first, and showing no mercy.
FAQs: Cobra Kai Season 6 Cast, Release Date, and More
Q1: What's the Cobra Kai Season 6 release date 2023?
The exact release date for Cobra Kai Season 6 has not been confirmed yet. Production delays have affected the timeline, but it might premiere in late 2024 or early 2025.
Q2: Who are the key cast members returning for Cobra Kai Season 6?
Key cast members such as Ralph Macchio (Daniel LaRusso) and William Zabka (Johnny Lawrence) are expected to return for Cobra Kai Season 6.
Q3: Why is Cobra Kai Season 6 considered the final season?
The decision to conclude Cobra Kai with Season 6 was the showrunners', emphasizing creative control and ensuring the series ends on its terms. However, there are hints of possible spin-offs within the Miyagi-Verse.
Q4: What challenges have affected the production of Cobra Kai Season 6?
A writers' strike initiated by the Writers Guild of America (WGA) in May 2023 caused a significant setback in the production of Cobra Kai Season 6.