Are you an ecommerce startup looking for an effective online presence? Do you want to develop a feature-rich online store to sell your products and services? There's a lot of competition in every sector? There are several CMS to choose from. Depending on your business requirements and goals, you need to pick the right platform for building feature-rich online store or portal.
Magento 2 has been into the limelight since quite a time now. This superior eCommerce platform is a trusted choice of millions of developers and users all over the world. Retailers have been using Magento for ecommerce website and app development. Thanks to the high functionality and flexibility of the platform. Magento 2 offers a complete eCommerce solution that helps you boost your business. It can be used for building websites and apps for ecommerce businesses.
Did you know that leading brands like Nike, Reebok, and more use Magento? This amazing comprehensive ecommerce platform comes with a wide range of plugins and modules that can be used to add the desired functionality to your ecommerce store. There are several other benefits of Magento 2 that make this platform a trusted choice of several users and developers across the globe.
Magento 2 for Android and iOS app development
There has been a huge transformation in the ecommerce trends since the last few years. Gone are the days when users preferred to use their desktops and laptops to shop for products online. Nowadays, consumers shop from their smartphones. They prefer to shop with a few clicks on their mobile devices rather than using their computers or visiting a local store. Leading ecommerce giants have understood this and they make their websites and mobile apps according to the latest market trends. So, if you have made up your mind for creating an ecommerce store for your business, it's time to look for the right Magento ecommerce app development company to build powerful and engaging solutions to help your business grow.
Top reasons to opt for Magento 2 mobile app development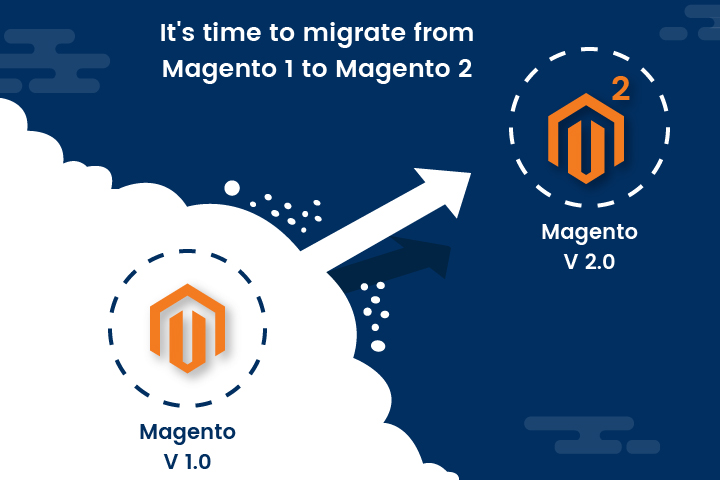 Magento 2 is pre-loaded with a stack of ecommerce features. It is a comprehensive ecommerce solution that can help you build the right mobile app for your business. Some of the amazing features of this version include simple checkout, easy navigation, multiple payment gateway support, and many more. Though checkout is the last thing when a user purchases something online, it plays a major role in the success of an e-commerce store.
Shoppers abandon their carts for various reasons. Some of them are:
Slow checkout process.

Their preferred payment option not available.

Few shipping options.

They are forced to create an account to purchase items.
In Magento 1, the users had to go through six stages before completing the checkout. It was impossible to skip these steps. Magneto 2 offers enhanced features for the checkout process with only 2 steps. This two-step checkout is loved by the users. This unique feature improves the customer experience.
Different payment gateways can be used with Magento 2. Paypal and Braintree can be added to Magento 2 eCommerce website and app. Developers can integrate different payment methods to reduce cart abandonment and boost the conversion rate.
2. Improved performance
Magento 2 is known for high performance and scalability as it optimizes the web pages for faster loading speed. It has the capacity of handling 10 million page views hourly, which was not possible with Magento 1. With such unique improvements in Magento 2, website loading speed is 30-50% faster as compared to Magento 1.
3. Integrated B2B functionality
If you are a B2B and need a trade portal where your retail customers can shop online, Magento 2 offers such features to allow the users create company accounts. It's easy to set up multiple buyers and collect quotes from different businesses. Many B2B portals have been enjoying the advantages Magento 2 platform offers.
4. Advanced Search
Tech-savvy modern consumers know the exact words to search and get access to the right products they are looking for. Magento 2 offers quick advanced search options using layered browsing to make it easy for the customers to find the products. When the product discovery becomes easier, the conversion rate of your online store would obviously improve.
5. Advanced Reporting & Analytics
Reporting is an essential factor that determines the success of your ecommerce store. Businesses can track the performance across campaigns with reporting and analytics. Magento 2 comes with new advanced Business Intelligence tool and other reporting features that are capable of generating 20 reports at once. It is now possible to generate reports related to sales, products inventory, cart abandonment, existing customers registered, taxes and fees, and more. The reports are updated regularly to help the business owners get new insights. Managing your ecommerce store becomes easier with such detailed data and reporting.
6. Email Marketing Automation
One of the most amazing features of Magento 2 is email marketing automation. Merchants can create different campaigns and send out emails to their prospects and customers. Push notifications is another awesome feature that helps merchants send prompt messages. Whether you want to send information about the discounts or reminders to the users, Magento 2 has the unique feature for that.
Is Magento 2 made for small, medium, and large-sized businesses?
Absolutely. All businesses, irrespective of their size, can be benefitted from Magento 2. Building an effective app for iOS or Android can help you close more sales and make your business reach new heights. You can hire the best Magento developers and create a mobile app for your eCommerce business. Being SEO friendly, it is the perfect choice for online marketing. With single admin panel for website and mobile app, you'll be able to save a lot of time and efforts.
Magento 2 allows you to create multi-language and multi-currency support. Create multilingual website and reach a wider audience with this amazing ecommerce platform. It allows building SEO friendly websites and apps.
As Magento 2 can be integrated with third-party tools and services without any issues, one can enhance the functionality of ecommerce store. You can customize your online store the way you want to, and make your business reach new heights within no time. This scalable platform is the future of the ecommerce industry. Even startups can choose Magento 2 app development to get intuitive ecommerce solutions for their business.
Wrap Up
Speed, personalized content, and user-friendliness are some of the major reasons why Magento 2 is popular as an ecommerce app development platform. Magento is the perfect ecommerce app development platform that can help you get an online store within your budget. You don't have to break your bank to build a feature-rich and engaging online shop for your business. With minimal resources and tools, you can get a Magento 2 website and app for your brand. What are you waiting for? Start looking for the best Magento 2 development agency to help you get the best solutions to help you achieve your business goals. Hire the right Magento development company and enjoy the endless incredible benefits of this awesome platform.