Every website has different needs, so it's important for websites to have a variety of features. For example, online stores that only sell clothes need to have ways to keep track of their stock. This makes sure that the items listed for sale are actually available. But only the best responsive website design company in Colorado has experts who can meet your specific needs.
But if you look at a law firm that doesn't sell anything online, the above design won't make much of a difference. No matter how different the features and requirements are, you need to know that a responsive website design is a must-have feature for a website to be successful
In the field of web development and design, experts need to know what the market wants. With different devices and resolutions coming out, the development team is the one who has to deal with the problems. Businesses need to make different versions of their websites so that they can easily fit on new devices or screens with different resolutions. This is because customers have different needs and use different screen sizes. This is not only impossible, but it also doesn't make sense.
But if your website isn't set up to work well on all kinds of devices, you always run the risk of losing visitors. Tablets, PCs, laptops, smartphones, and smart TVs are some of the most common devices.
Also, it's clear that people keep moving forward in the buying process. Someone could, for example, look around on their phone while riding the bus and then buy something a month later on their laptop. This means that businesses need the help of experts who offer responsive website design services to make a website that can be accessed from different devices.
More About Responsive Website Design Agency
With more people using smartphones, websites need to be able to adapt to different screen sizes. Before we move on with responsive web design, let's take a look at what it is.
Responsive web design is an approach that says the design and development of a website should be able to respond to the user's actions and the environment. This includes the platform, how the screen is turned, and how big it is.
This also means making use of grids, images, and layouts that can be changed. The website must easily work with the different screen sizes and image resolutions of the two devices.
This means that the website needs to be built so that it can respond to the user's preferences. So, this is helpful because it gets rid of the need to design for all the different devices on the market today. In other words, when you use a larger screen, you should be able to easily move between the different columns. On the other hand, a small screen should be able to show the same content in a single column and still make it easy to read and navigate.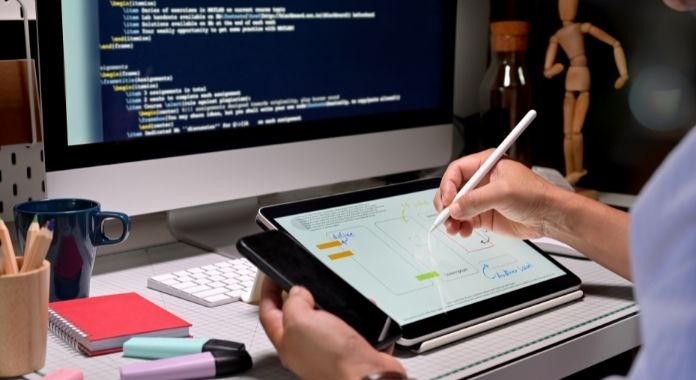 Smartphones are changing the way people use the Internet, and this should be a sign to businesses that they need a website that works well on all devices.
This article talks about how important it is for a website to be responsive and how optimising for different screens can be a good idea. So let's take a look at why responsive website design is a good thing.
What are the benefits of having a website that can be viewed on any device?
Some of the most common benefits of having a web design that works on all devices are:
It works on more than one device, so no matter what device the user is using, the experience will always be smooth and consistent. This again makes sure that people come back to your website from different devices to make sure you have the information they want.
Small businesses that focus on products or services can benefit a lot from this. These days, businesses are all over the world, so it's important for them to have a website that people from all over the world can use. You can only get the money you deserve or plan to get if you keep your gates open. If you don't, it's like leaving your bread on someone else's table.
A responsive website is also great because it is easy to keep up with. When you build a website, unlike a traditional one, you have to hire a professional to help you make changes. This is a very expensive thing to do, so responsive website design can save the day. When your website has a responsive design, you can make changes without the help of a professional.
When making a website, you should want to reach as many people as possible. This can be easier if your website is made to meet Google's needs. Google made it clear in an update that websites that are easy to use will get a better ranking on their pages.
Responsive web design makes sure that sites can grow as needed. These are websites that can change size depending on the size of the screen. With a responsive website, a business can adapt to new devices that can have more than one screen.
To Sum Up:
If a business wants to be at the top, it must have a website that works on all devices. Look for the best responsive website design company in Westminster (Colorado) area that can provide the corrective service. Only the Digital Marketing Services provider can deliver results as per your requirements.