Reading Time:
4
minutes
A business becomes profitable by efficiently organizing its contact data to communicate with its customer and seize sales opportunities regularly. And that is why they need Customer relationship management (CRM) software that provides them with features like contact management, workflow automation, and reporting to organize themselves and close deals quickly. Businesses may have to spend only 34% of their time selling for a 29% surge in sales by investing in salesforce CRM.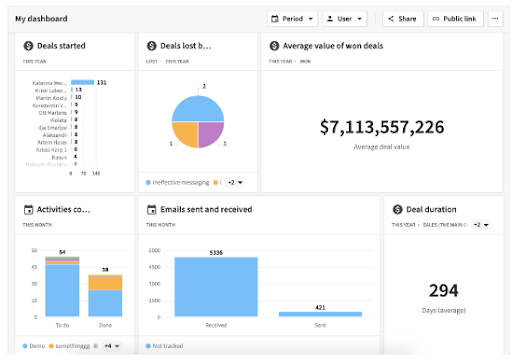 As business organizations continue to rely more on CRM; experts opine that there will be a surge in CRM usage by 245% by 2028.
Continue reading to learn how sales are evolving through salesforce CRM.
What is Salesforce CRM?
The objective of a business is to maximize profits. However, through effective communication, revenue generation is possible when the company remains in contact with customers, service users, colleagues, and suppliers. The technology that assists a business in maintaining healthy relationships with all its connections, especially prospective and existing customers, is Customer Relationship Management (CRM).
Here is how CRM works for a business:
A CRM system assists businesses in earning higher revenue through process automation and better customer relationship management.
The CRM solution helps business organizations concentrate better on the company's customer interactions.
Thus, the contact and sales management tool enable businesses to retain their customers by addressing customer grievances, providing customer support, and additional services through the relationship.
A CRM solution encourages more team efficiency and productivity by focusing on its interactions with customers, service users, colleagues, and suppliers.
It is a tool that aids in contact management, sales management, and productivity.
Why Use Salesforce CRM?
Cannon, the leader in consumer imaging equipment and information systems, had one massive problem, i.e., the regular tracking of their vast sales staff. Inadequate communication with the team and customers resulted in insufficient data collection. The poor analysis of customer needs reduces their improvisation efforts to almost nothing. 
But when Cannon began implementing Salesforce CRM, they found a means to know customer reaction and need for their product leading to product improvisation.
Here is how Salesforce CRM helped Cannon:
It became easy for the sales personnel at Cannon to collect and pass on information about customer needs and preferences in real time and report the same to their superiors. Salesforce thus provided Cannon with the ability to effectively share customer insights to improve their product to match customer needs.
Time Efficient
Efficient time management is a requirement for a progressive business. Businesses can maximize lead conversion by optimizing the sales funnel. Salesforce CRM eliminates wasting time by providing all the customer's pertinent data in one place. The team need not mine data from logs of files, thus saving and utilizing it to better plan and provide customers as per their needs and interests.
Saving on Costs
Salesforce CRM automation features help businesses by sequencing data. The users can thus easily access the necessary information within a short time and spend the rest of their time working on building customer relationships. However, if a company does not opt to use such software, it will have to sort the data manually. As each day's data is considerably vast, its manual sorting will involve much time giving them very little or zero time for revenue-earning tasks like business improvisation or engagements with customers.
By investing in Salesforce CRM, the business hands over its administrative responsibilities and can spend more time running its business and generating more profits.
Better Organization through the Calendar Feature
Salesforce CRM also provides the user with the calendar feature to help them to plan meetings, teams, and other phone calls and projects. The calendar is displayed on the dashboard so team members can easily see it and ensure they meet deadlines and do not miss out on attending meetings.
Guarantees Customer Satisfaction
Salesforce sale cloud provides easy access to business customers' data, such as their history, background, contact information, etc. Businesses can also scrutinize their customers' social media posts to understand their needs and interests better. Such information provides businesses with good improvement ideas to satisfy the customer.
Better Customer Service through Account Management and Communication
One of the best features of Salesforce CRM is that it helps a business to connect better with its customers. While a company continues to look for ways and means to expand its business by attracting new customers, it is cheaper and less challenging to hold on to existing customers. Thus, retaining its customers and encouraging them to return with more orders through continuous engagement becomes a priority for a business. Here is how Salesforce CRM helps a business connect with its customers:
Salesforce CRM helps companies recognize the interest of their customers and send them customized messages.
Its automation feature, Einstein Bots, provides quick answers to the question customers frequently ask. The benefit is customers receive prompt responses to their queries. Thus, it creates a patterned pathway that is easy for the customers to follow in the future.
The unprecedented situation created by the pandemic made it difficult for the business to communicate in person with its customers. That's when the Salesforce Live Agents became a significant advantage. The live chat feature from salesforce provides customers with detailed instructions to help solve their grievances by connecting to the customer's profile.
Effective Teamwork
Salesforce's "Chatter" feature allows team members to connect with each other from anywhere in the world, anytime. The communication may be with individual team members or entire groups to connect clients and their information to other work-related matters like territory and product/service details.
Conclusion
Now that you have finished reading the article, you know what Salesforce CRM is and how useful it is to a business in prospect nurturing, accurate sales forecasting, and better generation of their sales pipelines.
However, there is no denying that 49% of business projects failed despite using CRM software. A lack of technical know-how is the primary reason for the failure. Hire a salesforce developer to help the sales personnel familiarise themselves with the CRM software and wait for them to adopt it. The secret to successful CRM implementation lies in the patient waiting for user adoption.