Strong customer relationship is everything for a business when it comes to exploring its reach worldwide. Every business person wants to keep their customers happy and satisfied. However, it is not as easy as it seems to be. Maintaining a healthy relationship with customers and keep them happy & satisfied is one of the daunting tasks you ever did for your business. But nowadays, with the advancement in technology nothing is so difficult. Now it has been easier to manage customers and fulfill their needs. Yes, there are a number of Best CRM software out there that can help you manage the relationship with your customers hassle-free and in a simple manner. Let's have a look below.
1. Freshsales: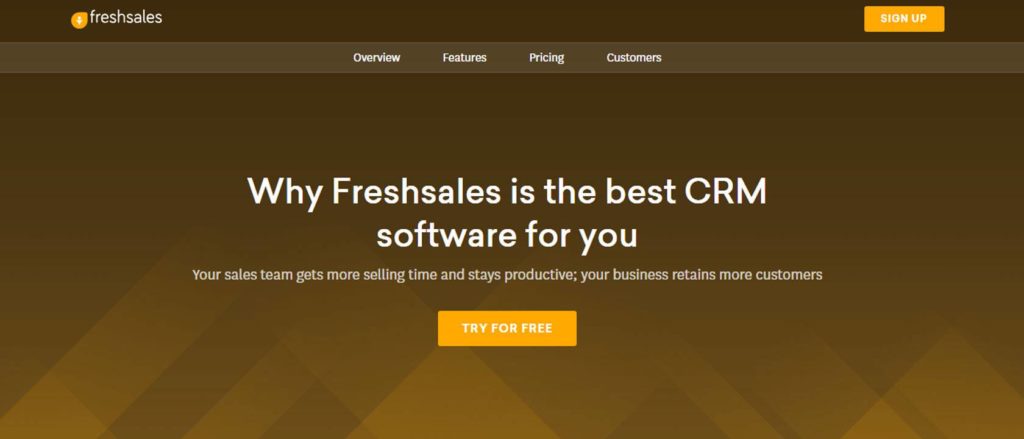 Freshsales is one of the best CRM software that helps you manage your leads in a simpler and convenient manner. We know "managing customer leads" is essential to run a business successfully. This is why we've come to explain to you the importance and functionality of Freshslaes. Freshslaes eliminates all worries related to the management of customer lead data. This ultimate CRM software tool allows you to achieve outstanding solutions & advanced features to manage customer leads. Whether it is related to manage affiliate management, call recording, auto-dialers, or email tracking this software supports you to verify and handle the overall process smoothly that everything related to your customers is working correctly or not.
2. InfoFlo: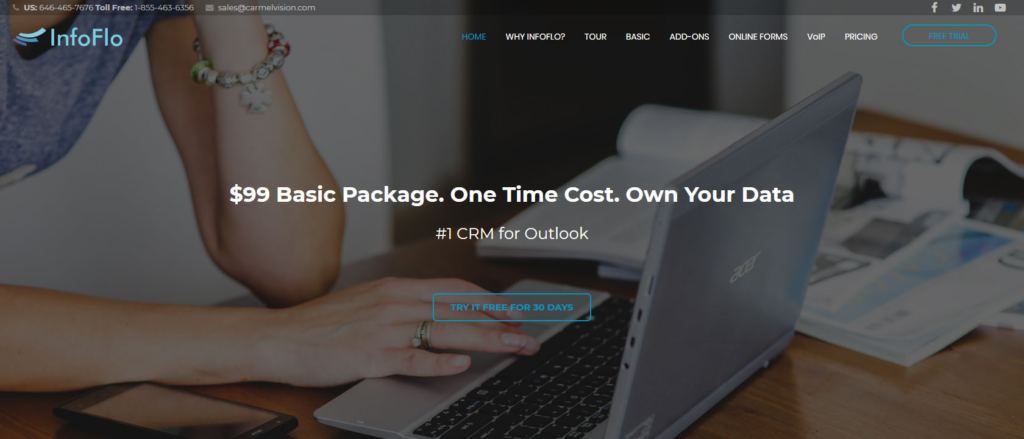 Being one of the exceptional CRM software, InfoFlo is a highly integrated, simple to use Customer relationship management software that is specially designed to help SMBs manage their potential customers or their confidential data, including sales data, data related to emails, calls, meetings, and other future proposals. It basically provides a full contact management solution that tracks and combines all the relevant data related to your customers so you can observe your past & present sales and make your strategy to boost sales in the future too. It is so easy to operate that you can even gather your CRM data in a single place either on the cloud or on your servers for fast access. So, if you want to track leads and looking forward to getting the best & qualified leads, then you should give it a try.
3. Bpm'online CRM: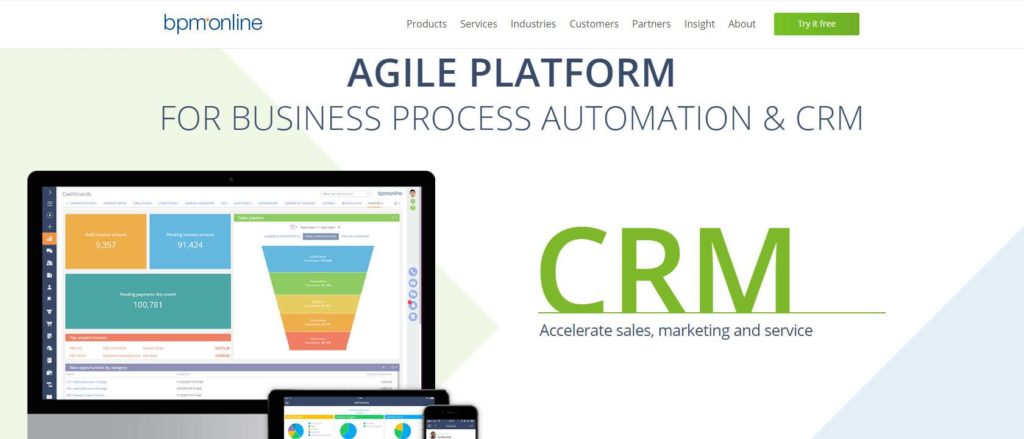 It is another one of the ultimate CRM software but a little bit different due to its enriched features. This high-end software helps you consolidate your customer data with business process management tools in a simple & hassle-free manner. With this outstanding software, you can simply organize all activities related to your sales, marketing, and customer support. Currently, this CRM software is made up of three outstanding modules including Bpm'online marketing, bpm'online sales, and bpm'online service. With these 3 modules, users have the power to manage their CRM efforts on their own without having to invest in multiple programs. Each module is comprised of specialized tools for the different departments that are involved in your campaigns. Best of all, you can easily centralize your database, reduce mundane tasks, and optimize overall workplace efficiency with ease once you start using Bpm'online CRM.
4. Zoho CRM: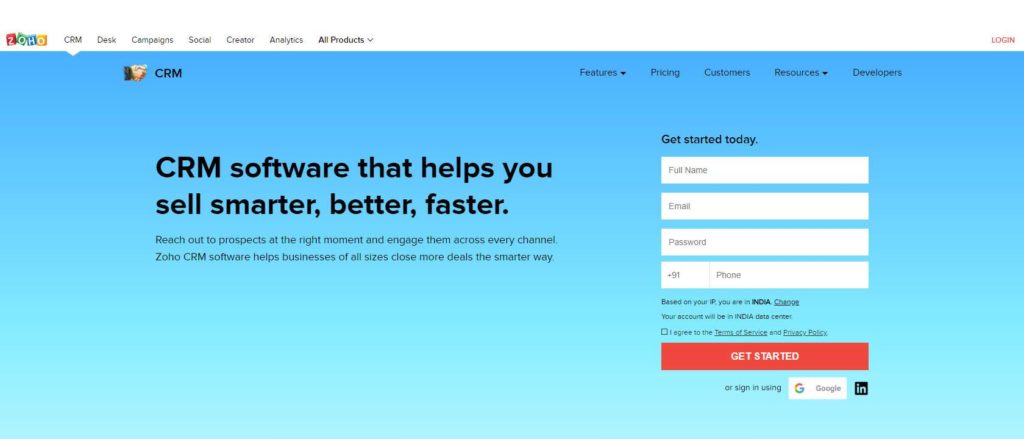 When it comes to engaging with your potential customers & leads, get insights about your business, build a scalable sales process, and grow your business faster, Zoho, the most trusted CRM software stand out from the crowd. Simple & straightforward user interface with a minimal learning curve, easy migration from spreadsheets and other CRM systems, and the most crucial for your business is its ability to set up and start selling right from day one like high-end features makes Zoho the best CRM software in the market today. Its best-in-class sales automation features for automating your entire business process, powerful analytics and reporting to help you make smarter & business decisions immediately, and ability to spend more time interacting with your customers and less on manually entering data is the best about Zoho that enforce to use this ultimate CRM software in your business.
5. Salesforce essential: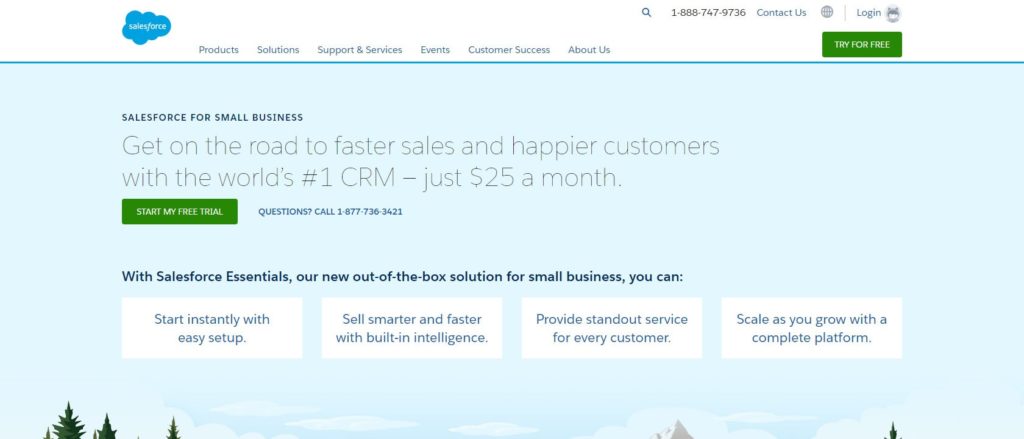 Get on the path to win more customer leads and manage the existing one with salesforce essential. It is one of the best CRM software that helps you easily follow up on your leads, identify key contacts, analyze the customizable view of all your sales details in Lightning, with the latest version of Salesforce. With Salesforce, ultimate speed, intelligence, and personalization, you needn't stop at the desktop, you can have the power to access and update your data anytime with the Salesforce mobile app. So, don't look out for the more! Find, win, and keep customers now with salesforce essential CRM software. Connect and integrate all your business data and get automatic product updates three times a year to keep up with the industry trends.
6. Hubspot CRM: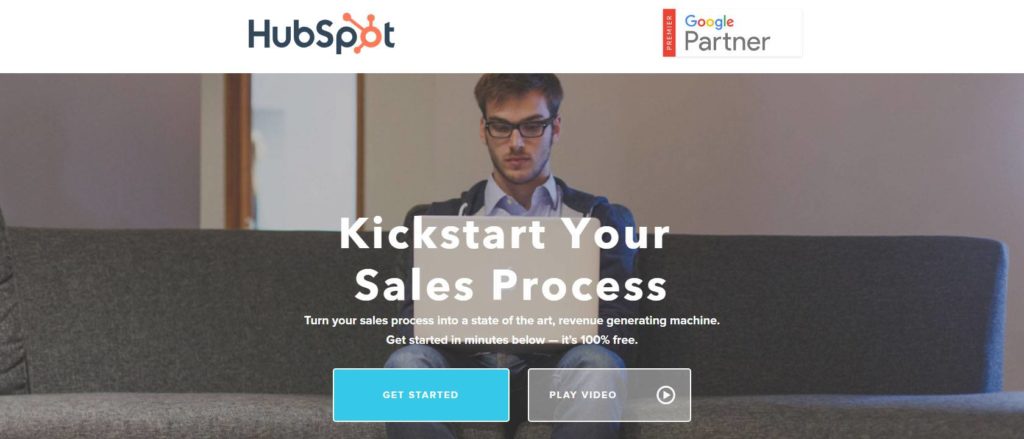 If you are looking for a flexible, intuitive solution for managing your prospects and sales pipeline then no software in the industry has arrived yet that can beat the HubSpot CRM software. Being one of the best Customer relationship management software, Hubspot automates the tasks that your salespeople hate in no time. With Hubspot, you can sort out all the deals whether wining & lost; a number of appointments scheduled, and contracts sent or not sent over any time period, and track performance against quotas you set easily and hassle-free. We don't think that you should waste more of your precious time to search for such free and ultimate software to manage your customer relationship. Its the right time to invest in Hubspot and get benefited from its number of benefits.
7. Pipedrive: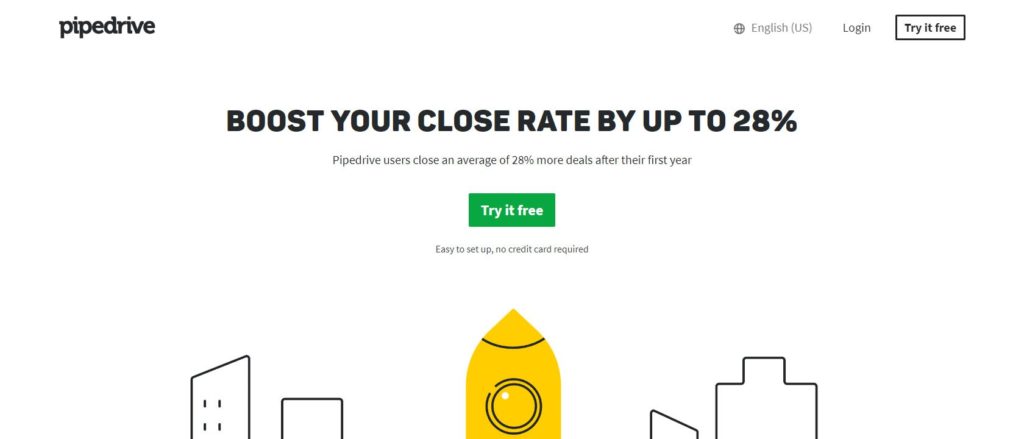 Get more qualified leads fed straight into your pipeline around the clock from your custom chatbot and website with the best CRM software Pipedrive. We know you've wasted a lot of your time to close deals by putting your full efforts and sometimes you left up with no results. Now it time to free up your day to close more deals by automating and tracking sales interactions with synced emails, calendars, and calls. It's too simple and easy just with Pipedrive software. Give it a try today!
8. AmoCRM: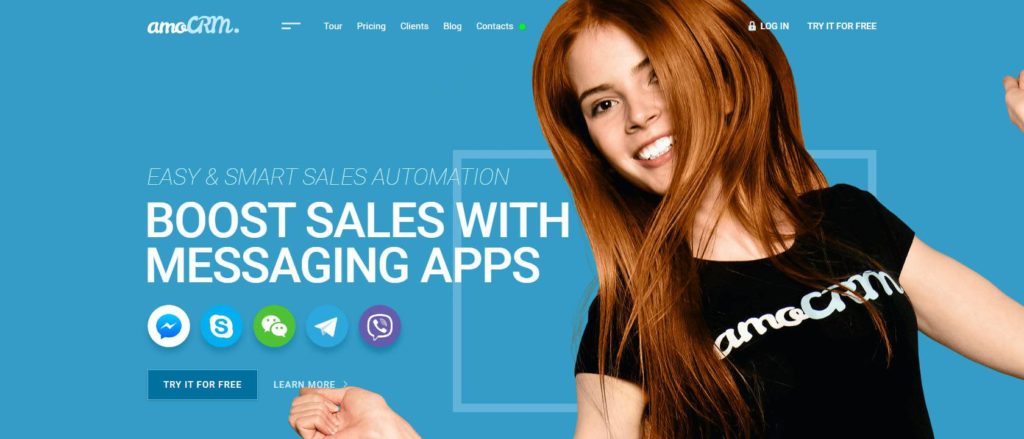 Do you want to connect with your leads and customers, regardless of the messenger app they prefer? Haven't you found such a messaging platform cum app yet? We've got you covered. With amoCRM, every conversation is readily available in a single unified inbox. Whether that's an incoming chat message, lead capture form, phone call or email, amoCRM software automatically pulls leads from all your sources into a single, unified inbox. All contact data and conversations are synced in real-time, and you can respond without switching apps. It's so easy to use and user-interface. Why don't you use it once? It will give you the best results ever.
9. IPIX: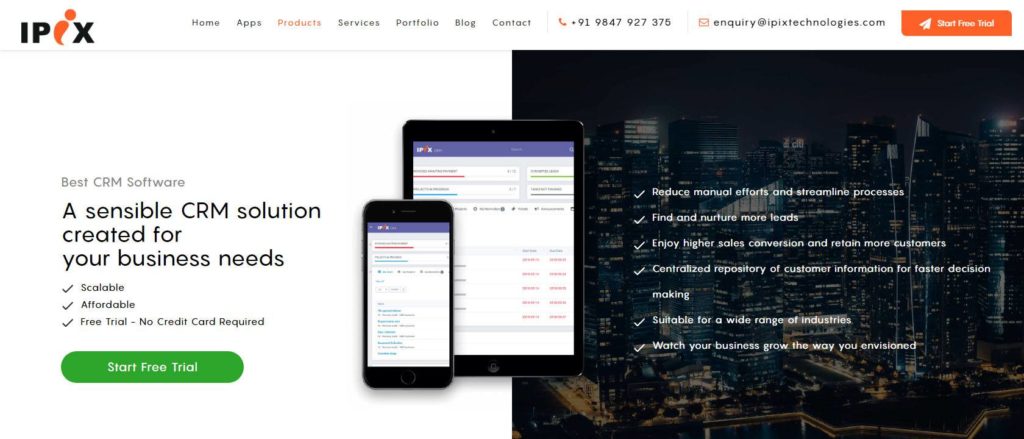 Want to reduce manual efforts and streamline processes? Looking to find and nurture more leads? Want to enjoy higher sales conversion and retain more customers? Suitable for a wide range of industries, IPIX, the best CRM software in the industry will help you achieve so. This cloud-based CRM software lets you access important customer information from anywhere, any time without paying more money & time. We know the market is full of CRM software, which makes it quite tough for you to decide which should you use first. We don't know about the functionalities & features of other CRM software, but guaranteed the facilities IPIx offers to you will no one can.
10. Vcita CRM: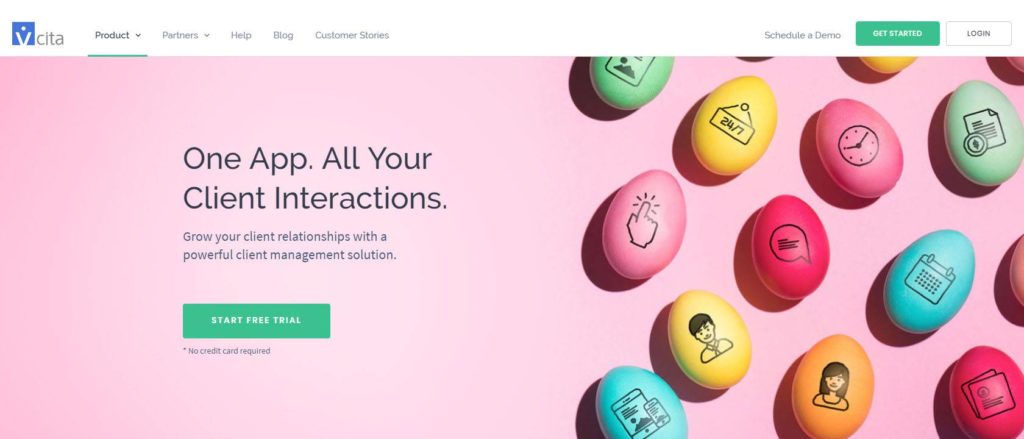 Looking to let your team do more legwork productively when it comes to your manage your leads? It's a good thpought you have in your mind to manage leads and pipelines. But how will you ready your team to work like that? Well, you needn't get ready your team, they will start working on their own by using the Vcita CRM software. Via this ultimate software, you can assign leads from your website or social media directly to your different team members to nurture that new relationship. In addition, this software, enable you to assign any of your clients across your team at any time, all the while allowing you to monitor your clients' information once you've passed them along.
Conclusion:
Well, these 10 best CRM software around the world will definitely help you manage your customers and generate more leads. No matter you are running a small or large business, if you are using the right techniques and tools at the right time, you can achieve anything in your business. So, don't think over more, its the right time to implement the above CRM software into your business. Rest, if you find need to know anything more, then let us know in the comment section below.
About Author
Julia Ching is associated with Salonist- Spa Appointment App, where she is working as a writer. She manages all content management projects and is keenly interested in writing technology, CRM software and Business Software related topics.